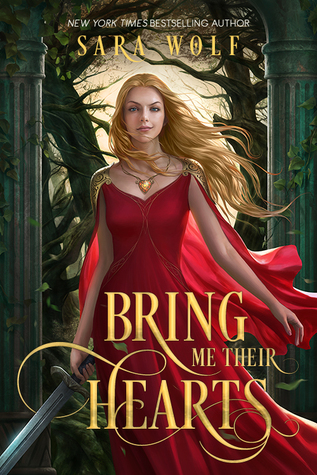 Title: Bring Me Their Hearts
Author: Sara Wolf
Publisher: Entangled: Teen
Release Date: June 5th 2018
Pages: 400
Synopsis from Goodreads:
Zera is a Heartless – the immortal, unageing soldier of a witch. Bound to the witch Nightsinger ever since she saved her from the bandits who murdered her family, Zera longs for freedom from the woods they hide in. With her heart in a jar under Nightsinger's control, she serves the witch unquestioningly.
Until Nightsinger asks Zera for a Prince's heart in exchange for her own, with one addendum; if she's discovered infiltrating the court, Nightsinger will destroy her heart rather than see her tortured by the witch-hating nobles.
Crown Prince Lucien d'Malvane hates the royal court as much as it loves him – every tutor too afraid to correct him and every girl jockeying for a place at his darkly handsome side. No one can challenge him – until the arrival of Lady Zera. She's inelegant, smart-mouthed, carefree, and out for his blood. The Prince's honor has him quickly aiming for her throat.
So begins a game of cat and mouse between a girl with nothing to lose and a boy who has it all.
Winner takes the loser's heart.
Literally.
AMAZON | B&N | iBOOKS | KOBO | ENTANGLED PUBLISHING | GOODREADS
*ARC received via NetGalley in exchange for an honest review.*
Witches, magic, sword fights, bad-ass ladies, a plot twist, and a leading lady you can't dislike!
SPOILER FREE
I am no flower to be ravaged at your whim, angry wolf — I am your hunter, bow cocked and ready. I am a Heartless, one of the creatures your people fled from in terror thirty years ago.
P L O T
Infiltrate the castle, pretend to offer yourself to be the Prince's bride, take his heart and turn him into a Heartless like the monster that you are. Easy enough right? But this is a YA fiction and nothing is ever easy for our dear characters! Fast paced, action-packed, heart-pounding scenes. It was simple, and easy to follow which I liked very much.
I told him the honest truth. I told him I wanted his heart. He said he warned me about the court. But I warned him, too.
C H A R A C T E R S
Lots of character development took place in this book and not just from our main character but also to the secondary characters.
Monsters can't be choosers.
Zera
Such a witty character created by Sara Wolf and her thoughts are even more hilarious. I instantly fell in love with her. She comments on everything and she just makes me LOL. I love how she hides behind sarcasm because I sometimes do that too. Though in the later part of the book where her character begins to change, I also felt sorrowful.
(More talk about the characters in the spoiler section below.)
"Fight by the moonlight, the starlight, whatever faded hope you can find at any moment — cling to it. Embrace the smallest of lights, and never stop fighting."
W R I T I N G
Utterly amazing! Sara Wolf has created a world I've never been to before but wouldn't like to live in. (hahaha!)
But the creatures and social customs, they're astonishing. The book has a little bit of everything, especially the emotions the reader will go through and these types of writing are what makes me love reading so much. I did not want to put my phone down!
Silk gloves do a perfect job of making my hands look clean, instead of the bloodstained sinner I know them to be.
O V E R A L L
Though it never said that this would be a series or a standalone but by the end of the book the author said the story will continue and that's when my suspicions became correct. Cannot wait for the next book, I'm super excited!
Hate is dangerous.
Eyes here
There's a giveaway!
---
SPOILER ALERT! Read at your own risk
"A blade is a blade — no matter who wields it, it can still cut."
Let me just talk about my thoughts, comments, and a little theory about the characters. I won't bother guessing the events that will take place in the second book because I want to be surprised and not have expectations that may or may not be a disappointment.
I am a monster, and he's human. I want his heart, and I want his other heart. His affection, his blood. I want it all. But if I take one, I can't have the other.
E L I Z E R A / Z E R A   Y ' S H E N N R I A
A lot of times I thought and wished that she were Varia, the dead Princess. 
(Who we soon found out wasn't dead after all and I kinda half expected that.) Yes, I ship her with Princes Lucien
but the bittersweet revelation of them being siblings would have been so good. But anyway, back to Zera. She always believed herself to be a monster, she was willing to be an even greater monster to get her heart back and along with her comrades' hearts because the life or a Heartless is s shitty one.
The irony where a Heartless suddenly seems like he has a heart. Zera has never known what it's like to love someone beyond the family tree (if she did, those memories are probably locked up too) so she didn't know what to do when she started to gain feelings for Lucien. And when the time came for her to finally make a decision, that moment was a 'will-she-do-it-or-will-she-not?' moment right there. She did let the monster out and it left me heartbroken that the Prince fears of her now.
Challenge. An equal. A friend. He's starving for it all. Starving for me.
P R I N C E   L U C I E N   D R E V E N I S   d ' M A L V A N E / W H I S P E R

I always knew Whisper was Prince Lucien or Prince Lucien was Whisper because this is still a YA novel, there's only so many characters to go around. (But I also like guessing events and character roles.) However, as Zera would put it, the Prince seems like a different person from the thief Whisper. Where the Prince shows no emotion and his presence oozes command and respect, while Whisper exude concern for the commoners and a rebel to the crown.
There are two things men will always believe about a woman: that she's stupid, and that she's weak. Today, as every day, I am neither of these things.
L A D Y   Y ' S H E N N R I A
Her back story is very sad where she had to give up her dreams of ever dressing up her own daughter to take part in the Spring Brides event. The part where she finally cares for Zera like her own daughter and slowly overcoming the fact that Zera's kind scares the shit out of her and also admitting to herself that she has grown to care for Zera despite being a Heartless. They have found a family in each other and I think this is the most beautiful part of the story.
"It's not a question of whether or not the apple falls far from the tree, because of course it doesn't. It's whether or not the apple can grow taller than the tree."
M A L A C H I T E

I wish to know more about how he and Prince Lucien came to be so close, he addresses the prince as 'Luc' that's the level of their relationship. He also represents the friend/s in our group where he's stuck watching two of his friends make googlely eyes at each other and never admitting their feelings for each other, or one party is just super dense or in denial.
"That's the cruel thing about family, isn't it? No matter how we feel about them, we will always look like them, act like them. We were raised by them, after all."
L A D Y   F I O N E   H I M I N T E L L
I'm still very cautious around her, I don't believe her uncle Gavik is truly behind every evil thing that they think he did. I believe her to be one of the bad people and she knows much more than she lets on. And now that we know Princess Varia is alive, I think Fione knew all along, if not, then I still stick to my belief that she's part of a bigger plot and she's standing at the wrong side of the battle.
"If you fear the past, it becomes your future."
---
ABOUT THE AUTHOR
Sara Wolf is a twenty-something author who adores baking, screaming at her cats, and screaming at herself while she types hilarious things. When she was a kid, she was too busy eating dirt to write her first terrible book. Twenty years later, she picked up a keyboard and started mashing her fists on it and created the monster known as Lovely Vicious. She lives in San Diego with two cats, a crippling-yet-refreshing sense of self-doubt, and not enough fruit tarts ever.
WEBSITE | TWITTER | PINTEREST | INSTAGRAM | FACEBOOK | GOODREADS | AMAZON