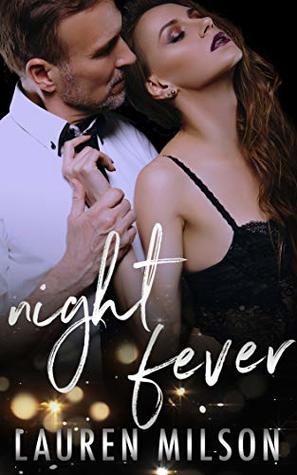 Title: Night Fever: An Older Man Younger Woman Romance
Author: Lauren Milson
Release Date: December 13th 2018
Pages: 104
Synopsis on Goodreads:
I wanted my first time to be with an older, experienced man on my birthday. I wanted a one-night-stand. Fate had other plans.
Her
No names. Few words.
One look.
I was ready to give away my V-card, and the handsome older man at the end of the bar made my heart race.
Big, intoxicating, with blue eyes, a strong jaw, and expert hands.
Quick, hot, dirty passion.
He possessed me.
I never thought I'd see him again.
Then I found out who he was.
Him
One look was all it took.
I didn't know her name.
I knew she was perfect.
Overprotected, sheltered.
Young. Innocent.
And like two ships in the night with no light to guide them, we crashed.
I took her. Claimed her. Made her mine.
Then she ran.
But she didn't get far.
Night Fever is a sweet, very steamy insta-love romance with an HEA and no cheating. Perfect for a hot night in ❤
*ARC generously provided by the author in exchange for an honest review.*
Quick, sweet and spicy, I mean HOT.
SPOILER FREE
P L O T
One of the best ways to celebrate your birthday is to get it down with someone who will make that day memorable. That's exactly what Taylor got. She wanted a one-night stand but fate stepped in and made them meet again in a circumstance she can't exactly refuse.
C H A R A C T E R S
Hendrick and Taylor could burn the house down with their passionate love for each other. And I'm glad how they both choose to make a stand for their relationship.
W R I T I N G
I just love Lauren Milson short stories because they're always to the point. Some short stories drag out plots but hers shift quickly. Let's make them meet, they f*ck, conflict/misunderstanding/barrier, happy ending. The falling in love stage can be slipped in between any of those scenes. Milson also loves to explore different scenarios where two people meet and how their love story begins.
O V E R A L L
The thing I love most about short stories is I use them as breathing time from a super intense, long novel I may currently be reading or a quick shift in mood and aura from a different genre. Kinda like taking breaks from exercise, or binge eating. It's a necessity for me.