Title: Kingdom of Ash (Throne of Glass #7)
Author: Sarah J. Maas
Publisher: Bloomsbury YA
Release Date: October 23rd 2018
Pages: 992 pages
Synopsis:
Years in the making, Sarah J. Maas's #1 New York Times bestselling Throne of Glass series draws to an epic, unforgettable conclusion. Aelin Galathynius's journey from slave to king's assassin to the queen of a once-great kingdom reaches its heart-rending finale as war erupts across her world. . .
Aelin has risked everything to save her people―but at a tremendous cost. Locked within an iron coffin by the Queen of the Fae, Aelin must draw upon her fiery will as she endures months of torture. Aware that yielding to Maeve will doom those she loves keeps her from breaking, though her resolve begins to unravel with each passing day…
With Aelin captured, Aedion and Lysandra remain the last line of defense to protect Terrasen from utter destruction. Yet they soon realize that the many allies they've gathered to battle Erawan's hordes might not be enough to save them. Scattered across the continent and racing against time, Chaol, Manon, and Dorian are forced to forge their own paths to meet their fates. Hanging in the balance is any hope of salvation―and a better world.
And across the sea, his companions unwavering beside him, Rowan hunts to find his captured wife and queen―before she is lost to him forever.
As the threads of fate weave together at last, all must fight, if they are to have a chance at a future. Some bonds will grow even deeper, while others will be severed forever in the explosive final chapter of the Throne of Glass series.
---
SPECIAL MENTIONS
Gladiator meets Game of Thrones: a royal woman becomes a skilled warrior to destroy her murderous cousin, avenge her family, and save her kingdom in this first entry in a dazzling fantasy epic from the New York Times and USA Today bestselling author of the Elemental Assassin series—an enthralling tale that combines magic, murder, intrigue, adventure, and a hint of romance.
In a realm where one's magical power determines one's worth, Lady Everleigh's lack of obvious ability relegates her to the shadows of the royal court of Bellona, a kingdom steeped in gladiator tradition. Seventeenth in line for the throne, Evie is nothing more than a ceremonial fixture, overlooked and mostly forgotten.
But dark forces are at work inside the palace. When her cousin Vasilia, the crown princess, assassinates her mother the queen and takes the throne by force, Evie is also attacked, along with the rest of the royal family. Luckily for Evie, her secret immunity to magic helps her escape the massacre.
Forced into hiding to survive, she falls in with a gladiator troupe. Though they use their talents to entertain and amuse the masses, the gladiators are actually highly trained warriors skilled in the art of war, especially Lucas Sullivan, a powerful magier with secrets of his own. Uncertain of her future—or if she even has one—Evie begins training with the troupe until she can decide her next move.
But as the bloodthirsty Vasilia exerts her power, pushing Bellona to the brink of war, Evie's fate becomes clear: she must become a fearsome gladiator herself . . . and kill the queen.
---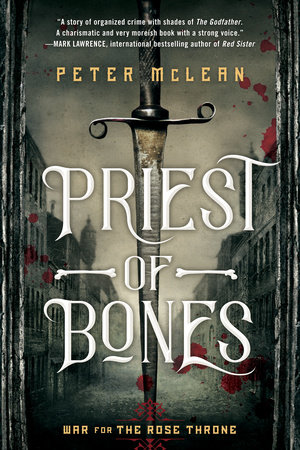 The war is over, and army priest Tomas Piety heads home with Sergeant Bloody Anne at his side. But things have changed while he was away: his crime empire has been stolen and the people of Ellinburg–his people–have run out of food and hope and places to hide. Tomas sets out to reclaim what was his with help from Anne, his brother, Jochan, and his new gang: the Pious Men. But when he finds himself dragged into a web of political intrigue once again, everything gets more complicated.
As the Pious Men fight shadowy foreign infiltrators in the back-street taverns, brothels, and gambling dens of Tomas's old life, it becomes clear:
The war is only just beginning.
---
To fight against the cruel and superstitious patriarchy known as the Talisman, members of the resistance group known as the Companions of Hira have risked their lives in a failed attempt to procure the Bloodprint—a dangerous text that may hold the secret to overthrowing the terrifying regime. Now, with their plans in ashes, the Companions of Hira have scattered, and the lives of two brave women at the center of the plot—Arian and Sinnia—face unprecedented danger.
Yet a spark of hope flickers in the darkness—the Bloodprint has survived. It is hidden in Ashfall, the seat of Rukh, the Black Khan, whose court is ruled by intrigue and conspiracy. Treacherous enemies ruthlessly maneuver for power behind the throne, including the autocratic Grand Vizier; the deadly and secretive Assassin; the Khan's deposed half-brother; and the commander of Ashfall's army, who is also Rukh's oldest friend.
The Companions of Hira must somehow reunite, break through Talisman lines, and infiltrate Ashfall. A master of treachery himself, the Black Khan joins forces with these powerful women to manipulate them for his own ends. But as Ashfall comes under siege, he is forced to make a deadly calculation . . . one that could cause irrevocable damage to the Companions and their fight for freedom.
---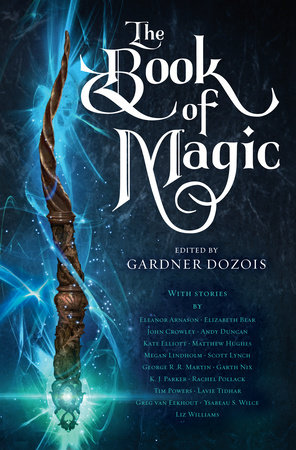 An anthology celebrating the witches and sorcerers of epic fantasy–featuring stories by George R. R. Martin, Scott Lynch, Megan Lindholm, and many more!
Hot on the heels of award-winning editor Gardner Dozois's (Rogues, Old Venus) acclaimed anthology The Book of Swordscomes this companion volume devoted to magic. How could it be otherwise? For every Frodo, there is a Gandalf…and a Saruman. For every Dorothy, a Glinda…and a Wicked Witch of the West. What would Harry Potter be without Albus Dumbledore…and Severus Snape?
Figures of wisdom and power, possessing arcane, often forbidden knowledge, wizards and sorcerers are shaped–or misshaped–by the potent magic they seek to wield. Yet though their abilities may be godlike, these men and women remain human…some might say all too human. Such is their curse. And their glory.
In these pages, seventeen of today's top fantasy writers–including award-winners K. J. Parker (The Two of Swords), Megan Lindholm (The Windsingers), John Crowley (The Deep), Tim Powers (Last Call), Liz Williams (Snake Agent), Elizabeth Bear (Eternal Sky Trilogy), George R. R. Martin (A Song of Ice and Fire), Kate Elliott (The Court of Fives Trilogy), Scott Lynch (The Republic of Thieves), and more–cast wondrous spells that thrillingly evoke the mysterious, awesome, and at times downright terrifying worlds where magic reigns supreme: worlds as far away as forever…and as near as next door.
---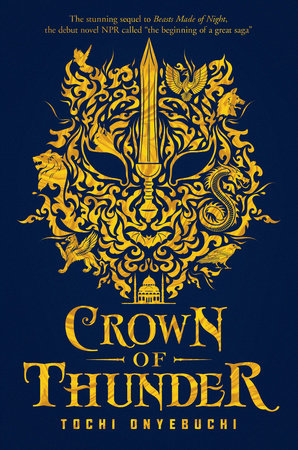 In the sequel to the acclaimed Beasts Made of Night, Taj has escaped Kos, but Queen Karima will go to any means necessary—including using the most deadly magic—to track him down.
Taj is headed west, but the consequences of leaving Kos behind confront him at every turn. Innocent civilians flee to refugee camps as Karima's dark magic continues to descend on the city. Taj must return, but first he needs a plan.
With Arzu's help, Taj and Aliya make it to the village of her ancestors, home of the tastahlik—sin-eaters with Taj's same ability to both battle and call forth sins. As Taj comes to terms with his new magic, he realizes there are two very different groups of tastahlik—one using their powers for good, the other for more selfish ends.
Aliya is struggling with her own unique capabilities. She's immersed in her work to uncover the secret to Karima's magic, but her health begins to mysteriously deteriorate. With the help of a local western mage, Aliya uncovers her true destiny—a future she's not sure she wants.
As Taj and Aliya explore their feelings for each other and Arzu connects with her homeland, the local westerners begin to question Taj's true identity. Karima is on his heels, sending dark warnings to the little village where he's hiding. Taj will have to go back and face her before she sends her mostly deadly weapon—Taj's former best friend, Bo.
---
In the tradition of modern classics The Dinner and A Gentleman in Moscow comes The Waiter, in which the finely tuned balance of a grand European restaurant (that has seen better days) is irrevocably upset by an unexpected guest.
In a centuries-old European restaurant called The Hills, a middle-aged waiter takes pride in the unchangeable aspects of his job: the well-worn uniform, the ragged but solid tablecloths, and the regular diners. Some are there daily, like Graham "Le Gris"—also known as The Pig—and his dignified group of aesthetes; the slightly more free-spirited drinking company around Tom Sellers; and the closest one can get to personal friends of the waiter, Edgar and his young daughter, Anna.
In this universe unto itself, there is scarcely any contact between the tables…until a beautiful and well-groomed young woman walks through the door and upsets the delicate balance of the restaurant and all it has come to represent.
Like living in a snow globe, The Waiter is a captivating study in miniature. Everything is just so, and that's exactly how the waiter needs it to be. One can understand why he becomes anxious when things begin to change. In fact, given the circumstances, anxiety just might be the most sensible response…
With the sophistication of The Remains of the Day and the eccentricity of The Elegance of the Hedgehog, The Waiter marks the North American debut of an exciting new voice in literary fiction.