Title: The Light Between Worlds
Author: Laura E. Weymouth
Publisher: HarperTeen
Release Date: October 23rd 2018
Pages: 351
Synopsis from Goodreads:
Six years ago, sisters Evelyn and Philippa Hapwell were swept away to a strange and beautiful kingdom called the Woodlands, where they lived for years. But ever since they returned to their lives in post-WWII England, they have struggled to adjust.
Ev desperately wants to return to the Woodlands, and Philippa just wants to move on. When Ev goes missing, Philippa must confront the depth of her sister's despair and the painful truths they've been running from. As the weeks unfold, Philippa wonders if Ev truly did find a way home, or if the weight of their worlds pulled her under.
AMAZON | CHAPTERS | B&N | INDIEBOUND | THE BOOK DEPOSITORY |  GOODREADS
---
SPECIAL MENTIONS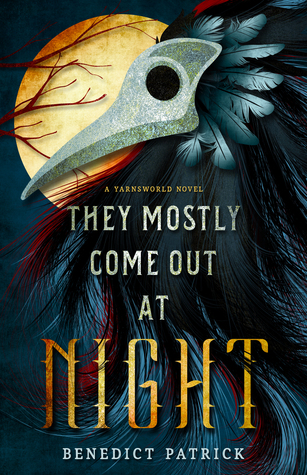 He locked himself away from the dark, but in the Magpie King's forest nowhere is safe…
Lonan is an outcast, accused of letting the monsters that stalk the night into the homes of his fellow villagers. Now, he will not rest until he wins back the heart of his childhood love and reclaims the life that was stolen from him. However, locked safely in his cellar at night, in his dreams Lonan finds himself looking through the eyes of a young prince…
Adahy has a destiny, and it terrifies him. How can he hope to live up to the legend of the Magpie King, to become the supernatural protector of the forest and defender of his people? But when the forest is invaded by an inhuman force, Adahy must rise to this challenge or let the Wolves destroy his people.
Watching these events unfold in his sleep, Lonan must do what he can to protect his village from this new threat. He is the only person who can keep his loved ones from being stolen away after dark, and to do so he will have to earn back their trust or watch the monsters kill everyone that he holds dear.
They Mostly Come Out At Night is a Dark Fantasy novel from Benedict Patrick's Yarnsworld series. If you like Neil Gaiman and Patrick Rothfuss then you will love this captivating, dangerous world in which ordinary people struggle to find their place in a land ruled by stories.
Start reading today to discover this epic tale of dreams, fables and monsters!
---
The Mothers meets An American Marriage in this dazzling debut novel about mothers and daughters, identity and family, and how the relationships that sustain you can also be the ones that consume you.
The Butler family has had their share of trials—as sisters Althea, Viola, and Lillian can attest—but nothing prepared them for the literal trial that will upend their lives.
Althea, the eldest sister and substitute matriarch, is a force to be reckoned with and her younger sisters have alternately appreciated and chafed at her strong will. They are as stunned as the rest of the small community when she and her husband Proctor are arrested, and in a heartbeat the family goes from one of the most respected in town to utter disgrace. The worst part is, not even her sisters are sure exactly what happened.
As Althea awaits her fate, Lillian and Viola must come together in the house they grew up in to care for their sister's teenage daughters. What unfolds is a stunning portrait of the heart and core of an American family in a story that is as page-turning as it is important.
---
Creeper, a scrappy young teen, is done living on the streets of New Orleans. Instead, she wants to soar, and her sights are set on securing passage aboard the smuggler airship Midnight Robber. Her ticket: earning Captain Ann-Marie's trust using a secret about a kidnapped Haitian scientist and a mysterious weapon he calls The Black God's Drums.
But Creeper keeps another secret close to heart–Oya, the African orisha of the wind and storms, who speaks inside her head and grants her divine powers. And Oya has her own priorities concerning Creeper and Ann-Marie…
---
Katherine Garnet is a writer who has never cared much about much, making it awfully difficult to create new content. Despite the fact she has the "edge" of being trans (according to her cis male editor) she is not looking to capitalize on her own personal story. Garnet tries to sneak a peek at her rival, August Prather's, latest fantasy manuscript about a quest for the elixir of life. While reading, Garnet gets accidently dragged into a bizarre cross-country road trip that may or may not have a purpose and begins to see parallels in the story of the manuscript and the reality of their journey. Along the way, they encounter a parade of equally troubled individuals, including ghost-hunting priests, a robot magician, a discarded piece of furniture, a runaway teenager, and a Japanese rock star. As Garnet confronts her past, she begins to understand why someone might want to live forever.
---
A ragtag band of explorers are looking to make the biggest score in the galaxy in the brand-new science fiction adventure novel from the national bestselling author of Linesman.
Three people who are not who they claim to be:
Nika Rik Terri, body modder extraordinaire, has devoted her life to redesigning people's bodies right down to the molecular level. Give her a living body and a genemod machine, and she will turn out a work of art.
Josune Arriola is crew on the famous explorer ship the Hassim, whose memory banks contain records of unexplored worlds worth a fortune. But Josune and the rest of the crew are united in their single-minded pursuit of the most famous lost planet of all.
Hammond Roystan, the captain of the rival explorer ship, The Road, has many secrets. Some believe one of them is the key to finding the lost world.
Josune's captain sends her to infiltrate Roystan's ship, promising to follow. But when the Hassim exits nullspace close to Roystan's ship, it's out of control, the crew are dead, and unknown Company operatives are trying to take over. Narrowly escaping and wounded, Roystan and Josune come to Nika for treatment–and with problems of her own, she flees with them after the next Company attack.
Now they're in a race to find the lost world…and stay alive long enough to claim the biggest prize in the galaxy.
---
In the Tale of The Fall of Gondolin are two of the greatest powers in the world. There is Morgoth of the uttermost evil, unseen in this story but ruling over a vast military power from his fortress of Angband. Deeply opposed to Morgoth is Ulmo, second in might only to Manwë, chief of the Valar: he is called the Lord of Waters, of all seas, lakes, and rivers under the sky. But he works in secret in Middle-earth to support the Noldor, the kindred of the Elves among whom were numbered Húrin and Túrin Turambar.
Central to this enmity of the gods is the city of Gondolin, beautiful but undiscoverable. It was built and peopled by Noldorin Elves who, when they dwelt in Valinor, the land of the gods, rebelled against their rule and fled to Middle-earth. Turgon King of Gondolin is hated and feared above all his enemies by Morgoth, who seeks in vain to discover the marvellously hidden city, while the gods in Valinor in heated debate largely refuse to intervene in support of Ulmo's desires and designs.
Into this world comes Tuor, cousin of Túrin, the instrument of Ulmo's designs. Guided unseen by him Tuor sets out from the land of his birth on the fearful journey to Gondolin, and in one of the most arresting moments in the history of Middle-earth the sea-god himself appears to him, rising out of the ocean in the midst of a storm. In Gondolin he becomes great; he is wedded to Idril, Turgon's daughter, and their son is Eärendel, whose birth and profound importance in days to come is foreseen by Ulmo.
At last comes the terrible ending. Morgoth learns through an act of supreme treachery all that he needs to mount a devastating attack on the city, with Balrogs and dragons and numberless Orcs. After a minutely observed account of the fall of Gondolin, the tale ends with the escape of Túrin and Idril, with the child Eärendel, looking back from a cleft in the mountains as they flee southward, at the blazing wreckage of their city. They were journeying into a new story, the Tale of Eärendel, which Tolkien never wrote, but which is sketched out in this book from other sources.
Following his presentation of Beren and Lúthien Christopher Tolkien has used the same 'history in sequence' mode in the writing of this edition of The Fall of Gondolin. In the words of J.R.R. Tolkien, it was 'the first real story of this imaginary world' and, together with Beren and Lúthien and The Children of Húrin, he regarded it as one of the three 'Great Tales' of the Elder Days.