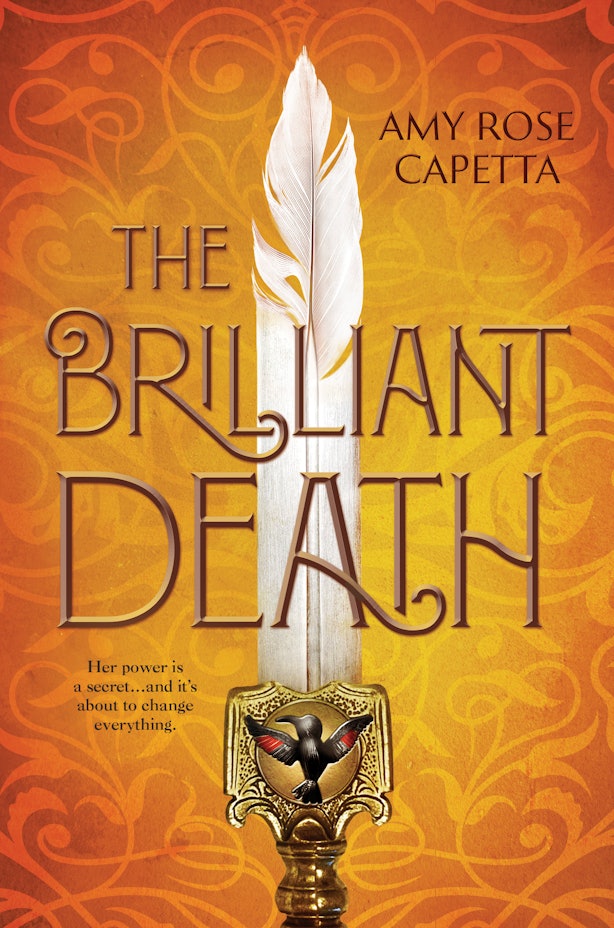 Title: The Brilliant Death
Author: Amy Rose Capetta
Publisher: Viking
Release Date: October 30th 2018
Pages: 352
Synopsis from Goodreads:
For Teodora DiSangro, a mafia don's daughter, family is fate.
All her life, Teodora has hidden the fact that she secretly turns her family's enemies into music boxes, mirrors, and other decorative objects. After all, everyone in Vinalia knows that stregas—wielders of magic—are figures out of fairytales. Nobody believes they're real.
Then the Capo, the land's new ruler, sends poisoned letters to the heads of the Five Families that have long controlled Vinalia. Four lie dead and Teo's beloved father is gravely ill. To save him, Teo must travel to the capital as a DiSangro son—not merely disguised as a boy, but transformed into one.
Enter Cielo, a strega who can switch back and forth between male and female as effortlessly as turning a page in a book. Teo and Cielo journey together to the capital, and Teo struggles to master her powers and to keep her growing feelings for Cielo locked in her heart. As she falls in love with witty, irascible Cielo, Teo realizes how much of life she's missed by hiding her true nature. But she can't forget her mission, and the closer they get to the palace, the more sinister secrets they uncover about what's really going on in their beloved country—and the more determined Teo becomes to save her family at any cost.
---
SPECIAL MENTIONS
A brother and sister are caught up in a deadly mystery after they take in a young woman who lost her memory in a near-fatal carriage accident in this YA thriller from the author of Love, Lies and Spies.
1833. After young Lord James Ellerby witnesses a near-fatal carriage accident on the outskirts of his estate, he doesn't think twice about bringing the young woman injured in the wreck to his family's manor to recuperate. But then she finally regains consciousness only to find that she has no memory of who she is or where she belongs. Her only clue to her identity is a gruesome recurring nightmare about a hummingbird dripping blood from its steel beak.
With the help of James and his sister Caroline, Beth—as she takes to calling herself—slowly begins to unravel the mystery behind her identity and the nefarious circumstances that brought her to their door. But the dangerous secrets they discover in doing so could have deadly ramifications reaching the highest tiers of London society.
A hopeful orphan. An incredible wizard. One boy must do the impossible to change his life forever…
Ozel wonders if he'll ever escape his angry, fat caretaker. As the orphan hopes for a better future, a mysterious wizard gives him the gift of an apprenticeship and some unbelievable magic. But when Ozel discovers he's the lone heir to a massive fortune, he'll need more than a few spells to claim it.
After learning his portly caretaker plans to steal the money first, Ozel races through a forest of blacksmiths, witches, and even the undead to protect his birthright. If he survives the treacherous Tangul forest, the orphan and his wizard may just have to stop a twisted mage to go from zero to wealthy hero.
Apprentice Quest is a young adult fantasy novel full of action and humor. If you like powerful wizards, twists and turns, and coming-of-age tales, then you'll love Jim Hodgson's worthy successor to the magical genre.
MIRA, THE HOPEBEARER
Mira Minkoba is on the run with her friends after a fiery escape from the Pit, where she'd been imprisoned for defending the dragons she loves. And she wants answers. Where have all the dragons been taken? Why are powerful noorestones being shipped to the mainland? And did the treaty she's been defending her whole life truly sell out the Fallen Isles to their enemies?
MIRA, THE DRAGONHEARTED
As her connection to the dragons—and their power—grows stronger, so does Mira's fear that she might lose control and hurt someone she loves. But the only way to find the truth is to go home again, to Damina, to face the people who betrayed her and the parents she's not sure she can trust.
Home, where she must rise above her fears. Or be consumed.
The second page-turning novel in Jodi Meadows' Fallen Isles trilogy scorches with mysterious magic and riveting romance as one girl kindles a spark into a flame.
Sixteen years ago, rebellion swept the galaxy known as the Belt of Jewels. Every member of the royal family was murdered–down to their youngest child, Princess Anya–and the Union government rose in its place. But Stacia doesn't think much about politics. She spends her days half-wild, rambling her father's vineyard with her closest friends, Clio and Pol.
That all changes the day a Union ship appears in town, carrying the leader of the Belt himself, the Direktor Eminent. The Direktor claims that Princess Anya is alive, and that Stacia's sleepy village is a den of empire loyalists, intent on hiding her. When Stacia is identified as the lost princess, her provincial home explodes into a nightmare.
Pol smuggles her away to a hidden escape ship in the chaos, leaving Clio in the hands of the Union. With everything she knows threading away into stars, Stacia sets her heart on a single mission. She will find and rescue Clio, even with the whole galaxy on her trail.
A warrior prince, an enslaved spy, a plot to draw the world to war. 
Crown Prince Aven Lanuken wants something more than a trophy for a future wife. He wants a woman who will be more friend than follower. A queen who will be more warrior than diplomat. He wants a partner he can trust… with a dangerous secret that's kept him trapped in a dark mountain fortress his entire life.
Mage slave Miara wants something more, too—to find an enemy prince. And not to marry him. She's just received orders for her very first kidnapping. She loathes the idea of it, and it's probably a suicide mission. But she has never failed a mission before and doesn't intend to start now.
Of all the women in the world, why does he have to fall for the one trying to kill him?
Magic, politics, love, and fate collide in the destinies of two people in this fantasy adventure from R. K. Thorne. For lovers of swords and sorcery with a side of romance, Mage Slave is the first novel in the Enslaved Chronicles trilogy.
The darling of the Roman Empire is in for the fight of her life.
Be brave, gladiatrix… And be wary. Once you win Caesar's love, you'll earn his enemies' hate.
Fallon was warned.
Now she is about to pay the price for winning the love of the Roman people as Caesar's victorious gladiatrix.
In this highly anticipated sequel to THE VALIANT, Fallon and her warrior sisters find themselves thrust into a vicious conflict with a rival gladiator academy, one that will threaten not only Fallon's heart – and her love for Roman soldier Cai – but the very heart of the ancient Roman Empire.
When dark treachery and vicious power struggles threaten her hard-won freedom, the only thing that might help the girl known as Victrix save herself and her sisters is a tribe of long-forgotten mythic Amazon warriors.
The only trouble is, they might just kill her themselves first.