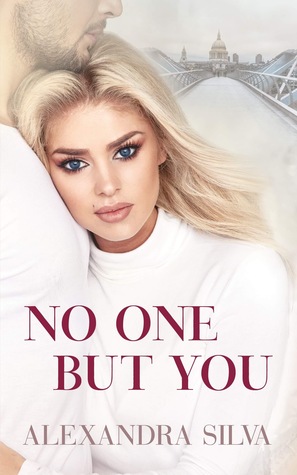 Title: No One But You
Author: Alexandra Silva
Release Date: July 26th 2018
Pages: 280
Synopsis:
QUINCY
They say bad things happen in threes.
I made a mistake. I kissed the right boy, but married the wrong man.
They were friends. Best friends. Until my life fell apart.
Everything changed.
Something was stolen and then something was given in its place.
I had so much in my grasp, maybe it was too much because everything started slipping.
My son.
My husband.
My sanity.
Only one thing remained the same.
My first crush.
My first kiss.
My first love.
JAMIE
They say you can't miss what you've never had.
But I swear I had her. At least for one kiss.
I left the right girl and tried to replace her with the wrong woman.
It didn't work because I still missed her.
I promised my best friend I'd always look after his little sister. And our other best friend promised to never break her heart.
He lied.
I didn't.
We have circled each other all our lives but our time never came.
We've never had our moment until now.
*I would like to thank Give Me Books Promotion for hosting this Blog Tour and providing me with an ARC in exchange for an honest review.*
Heartbreakingly beautiful. Alexandra Silva is an author to look out for if you want a super emotional read.
SPOILER FREE
P L O T
A story about loss, hurt, love and healing. This may have been the most true to life experience fiction book I've ever read. Sure, not everyone could relate, but the drama and story line is for everyone. (Not for all ages, obviously) This story doesn't just talk about the love between our two main characters but it involves the people that surround them. How their decisions affect their families and friends.
As complicated as their situation may be, I don't think it's impossible in reality. We fall for the most unexpected person at the most unexpected time. Sometimes we think we've gotten over the person we once loved or we thought that wasn't even love but the world works in a way we can never understand. If two people are meant for each other then they'll be together in this life or the next.
C H A R A C T E R S
For our two main characters, it's been a long journey filled with hurt, anger, confusion, complication, but in the end it's always going to be about love. Love will always find its way.
I love how every character has a fault and they admit to their mistakes and mishaps but no matter how painful and wrong their action was I couldn't find it in myself to hate them because they have their reasons for doing what they did. Its the chain reaction. One person lacks or fails to do his role then the party affected will be drawn to doing things that may be wrong. However, the blame game isn't to be played but accepting and understanding our mistakes is the way to go.
W R I T I N G
Such a wonderful story written in the point of view of two people who are clearly meant for each other but the odds are always against them.
Nothing is over done, no exaggeration in reactions, the characters are faulted perfectly, the time and place is perfect. The medical terms may have overwhelmed me a bit. The story wasn't even rushed. (No disappointments here.) I felt every emotion; every hurt, every pain, the laughter, the love. I cried a couple times. For situations where I clearly could not relate to, I didn't feel disconnected instead the author made sure I could understand what is going and how it's affecting the character.
I can clearly see the author has done her research, thought about every dialogue and every character so well. Which is why I love this book so much.
O V E R A L L
I have no regrets for reading this book because I knew this was something I'll be emotionally invested in. I thought it'll just be a second chance romance (World knows I love a good second chance romance) but it's so much more than that. I finished this book with an open mind, open heart, new knowledge and understanding to the world and the people.
I cannot wait for 'Someone Like You', it's about two couples in this story too but their own journey is just beginning. It'll be another emotional roller coaster that I'm only too eager to ride.