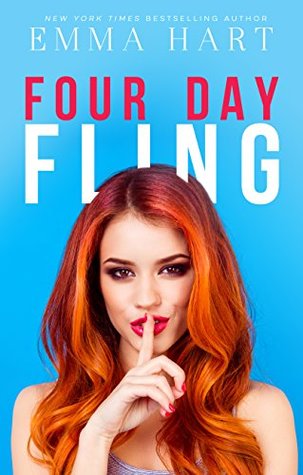 Title: Four Day Fling
Author: Emma Hart
Release Date: July 24th 2018
Synopsis on Goodreads:
A standalone romantic comedy of epically awkward proportions, from New York Times bestselling author, Emma Hart.
Imagine this. You're ready to leave after a one-night stand, and you're figuring out how to—shock horror—leave your number and ask him to be your fake boyfriend for your sister's wedding this weekend. When he wakes up. Well, that happened to me. And over coffee and omelets, I found myself a date.
Which was how I ended up arriving at the wedding with a guy I knew nothing about. I didn't know his last name, or how we met, or how long we'd been dating. I didn't know where he grew up, what he'd majored in in college, or how many siblings he had. I sure as hell didn't know he was Adam Winters, hotshot hockey player—and not only my father's favorite player, but my little nephew's freakin' idol. Which means I'm in trouble. Big, big trouble. My mother is suspicious, my sister is bridezilla on crack, and my grandpa will tell anyone who'll listen about his time in Amsterdam's Red Light District. Four days. I have to keep this up for four days, and then Adam and I can return to our regular lives, where we don't have sex whenever we're alone and my family aren't interrogating him over his intentions with me.
At least, that's the plan. And we all know what happens to those.
AMAZON | AMAZON UNIVERSAL | iBOOKS | NOOK | KOBO| GOODREADS
*I would like to thank the publicist for giving me an ARC in exchange for an honest review.*
Every chapter seems like it throws laughing gas at me.
SPOILER FREE
He tasted of whiskey and coke, and he smelled like my next big mistake.
P L O T
Majority of the book is set in the four days leading to the wedding but you wouldn't want to be anywhere else! Poppy's family is C-R-A-Z-Y. It's like going out with your wild friends, but worse because it's your family. They're at a resort but they're doing everything else but relaxing. I must say this was such an easy read, you can read it in one sitting 'cause you wouldn't want to put it down. You can't just read a chapter and leave it. I think the ending felt a bit rushed, a bit more of character development could have been done but I understand the book has to end.
God he was beautiful. I'll-chisel-you-into-marble kinda beautiful.
C H A R A C T E R S
I love Poppy and Adam, well I love Adam more with me.
Adam Winters
He's perfect, his smile and laugh and panty-dropping delicious. He's naturally charming and I don't know if I loathe it or love it. He's simply perfect. And that nickname he gave to Poppy! Ah! I love nicknames.
"Oh my God, if you want me to focus, get ugly or something!"
Poppy Dunn
As cool, calm and collected Adam is, Poppy is the exact opposite. She's all over the place with the smartest mouth you could ever find. I love her sassy attitude.
Karma was a bitch, but man, she was a beautiful one.
These two are perfect for each other. I want what they had for the four days. The kind of relationship that just clicked and you know the search is over.
Slow. Steady. Soft. It was a real kiss, one that made your feelings sit up and take notice, even if your mind wanted them to sit back down and shut up.
W R I T I N G
Brilliant, utterly funny and heart-melting. I want more of Emma Hart's works. Written in the point of view of both Poppy and Adam's though most of it was Poppy's. Writing some chapters in Adam's point of view was a smart move. It made me love him even more knowing his thoughts, motives and feelings.
Some kisses were fairytale ones. Heart-thumping, foot-popping, soul-sighing kisses.
O V E R  A L L
This is the funniest book I've read so far. I need to read more Rom-coms, they are the perfect medicine to a lonely or hectic day. For the few days I spent with Poppy and Adam, I am already feeling the little hole in my heart. I miss these characters.
Something inside me–my heart, my soul, whatever–sighed.
I half expected to see a book about Poppy's best friend but it's all in the hands of the author. Can't wait to read more from Emma Hart soon.
I didn't know honesty had a sound, but here I was, hearing it.
ABOUT EMMA HART
Emma Hart is the New York Times and USA Today bestselling author of over thirty novels and has been translated into several different languages.
​
She is a mother, wife, lover of wine, Pink Goddess, and valiant rescuer of wild baby hedgehogs.
​
Emma prides herself on her realistic, snarky smut, with comebacks that would make a PMS-ing teenage girl proud.
​
Yes, really. She's that sarcastic.
FACEBOOK | BOOKBUB | AMAZON US | AMAZON UK | GOODREADS