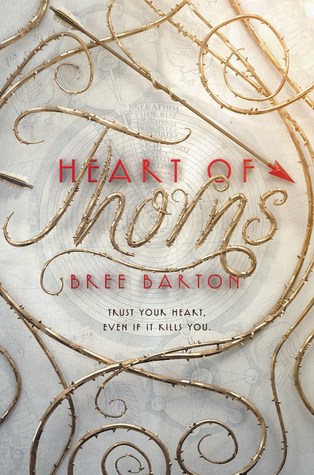 Title: Heart of Thorns (Heart of Thorns #1)
Author: Bree Barton
Publisher: Katherine Tegen Books
Release Date: July 31st 2018
Pages: 464
Synopsis on Goodreads:
In the ancient river kingdom, touch is a battlefield, bodies the instruments of war. Seventeen-year-old Mia Rose has pledged her life to hunting Gwyrach: women who can manipulate flesh, bones, breath, and blood.
Not women. Demons. The same demons who killed her mother without a single scratch.
But when Mia's father suddenly announces her marriage to the prince, she is forced to trade in her knives and trousers for a sumptuous silk gown. Only after the wedding goes disastrously wrong does she discover she has dark, forbidden magic—the very magic she has sworn to destroy.
AMAZON | GOODREADS
*ARC generously provided by the author's publicist in exchange for an honest review.*
Bree Barton is the master of plot twists. There were so many in this book that I need to catch my breath every time one pops up because I internally scream "WHAT!"
SPOILER FREE
What if I can't love you the way you deserve? Can true love be born out of a lie?
P L O T
Prepare yourself because nothing you know is what it seems. Action-packed adventure, perfect for fans of YA Fantasy. There's twist and turns in every corner. One moment you're feeling relieved and happy but before that moment gets a chance to sink it's teeth into your entire mental state, BOOM! Something terrible happens. It was all so unexpected, and that's coming from he who seldom likes to guess future scenarios or uncover secrets. There is magic but to me it's not overdone nor overused so I like it.
Love is a twisty thing, serpentine, quicksilver in the palm of your hand. It is fluid in the heart of a volqano: hot one minute, cold the next.
Word of advice, don't get too attached to any of the characters because they'll probably get killed off. It's almost like Game of Thrones in here. (Keyword: "Almost," that's a good thing. It means it's not really like GOT.)
I sleep beside a killer. I pretend to love a monster, and worse: I make him love me. Who is the monster now?
C H A R A C T E R S
Mia
Mia is a strong girl. Not just in the physical sense but emotionally and mentally too. Having all those information bombs dropping on her when she least expect it she still held her ground until the very end.
What broke more easily? A person's bones or a person's heart?
Quin
I always thought Quin was going to keep the Mr. Darcy act all throughout the book but that wasn't the case. Even though I like my men (Or in his case, boy. Sorry Quin, you're still below 18.) a little dominating on the side, he's still a cute cinnamon roll. Not exactly the prince you'd thought he'd be.
"The place you were born is not always the place you belong."
Still not over that one character's death by the way. Why oh why was that character killed off! I liked that character, I had big dreams for that character. I guess that's the only thing I hate about this book. (Sorry Bree)
Hatred will only lead you astray. Sometimes love is the stronger choice.
W R I T I N G
I love how the terms used are matching the setting of the story. It's using old terms and some terms I believe were made up by the author. At first I thought there was too much information and I was doing my best to keep up and keep track of the names of places and terms. For a single word there would be two different translations and I need to take mental notes of what they are.
Her parents' love had exploded like a shower of sparks in the sky, casting off cosmic dust that still glimmered.
Story wise, like I said there were so many surprises. There may have been a time where it seemed boring, there wasn't much action, it lacked direction but it was all made up by the intense ending scenes. The revelations when headed to the end of the book with the promise of tomorrow and greater adventures in the next book.
Tears were mercurial and untrustworthy. Feelings of any kind made a person vulnerable, weak.
O V E R A L L
This book has been in my TBR since the day the cover was released. I was sold the moment I read it had a bit of Mr. Darcy in it. It did not disappoint. The story, the world created by the author is as beautiful as the cover and title. Every time I think about the world in this book I get the feeling of happiness, like I could breathe fresh air. I have no idea why that is but that is how it affects me.
There's so much more to see, so many truths to uncover and I cannot wait for our next adventure. I am so looking forward to the sequel, relationships may have been severed in the end but I have high hopes. Book two is already in my top list for most anticipated reads of 2019!
"Our sisterhood has always been under threat. For the entirety of human history, weak men have been afraid of powerful women."