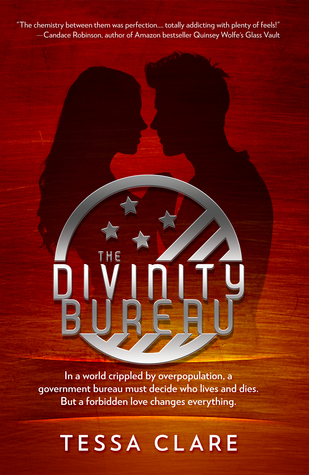 Title: The Divinity Bureau (Divinity Bureau #1)

Author: Tessa Clare

Publisher: Asset Creative House

Release Date: September 21st 2017

Pages: 327

Synopsis on Goodreads:
The Hunger Games meets Romeo and Juliet in a stunning debut about a forbidden romance between a young activist and a government employee working for a corrupt bureau that controls the population by deciding who lives and who dies.
Roman Irvine is a disgruntled IT Technician for the Divinity Bureau, a government agency that uses random selection to decide who lives and who dies. In a world where overpopulation has led to pollution, a crippled economy, and a world in crisis, he has accepted the bureau's activities as a necessity. That is until he meets April McIntyre.
April has every reason to be suspicious of Roman. He works for the Divinity Bureau, which sent her father to an early grave. However, he is also sweet and loyal, and unbeknownst to her, he saved her life. As Roman and April fall deeper in love, the deeper they are thrust into the politics of deciding who lives and who dies. Someone wants April dead. And the bureau's process of random selection may not be so random after all.
AMAZON | B&N | POWELLS | GOODREADS
 *I would like to thank the author for reaching out and generously providing me with an e-copy of the book in exchange for an honest review.*
SPOILER FREE
"Are you going to be so afraid of death that you forget to live?"
P L O T
This gave me major Shatter Me (by Tahereh Mafi) feels but it's still its own world. Romeo and Juliet destined for each other but forbidden to be together, they get hitched anyway. No, they don't get hitched in this book.
To work for the Bureau is to leave your humanity behind the entrance of the building. That's a tough way to live. I probably won't survive that long if I work there because I'm such an emotional person.
The plot is pretty good, it has one direction and that is forward. Fast-paced, a bit thrilling, there are times when I wait for something bad to happen because lot of things go bad in books and when nothing happens I release that breath I was holding.
"When you have nothing left, you have nothing left to lose."
C H A R A C T E R S
April
A modern Juliet, born in a family tree of politicians. Wants to change the world but not the same way her ancestors did. Her character is full of fight and drive to do better and inspire those who need a little push to speak up and fight for their right to live. April is strong and admirable, she has her faults but who doesn't? She's human, (even though she's fictional) she's vulnerable and she gets scared which is what I love most about her. I half expected her to be one of those bad-ass female leads who face their fears and enemies head on but she knows when to fight and when to wait for an attack. Brilliant!
Roman
Under-appreciated by his superior and underpaid! He's got one of the most important jobs in the building yet he's living paycheck to paycheck. Their rescue mission was super cool and it totally showcased his skills as and IT guy. I always look up to IT guys by the way, I feel like they know so much and they have great power with all the hacking and blocking and creating softwares that majority of the people can't live without these days. Never underestimate the IT guy.
At that moment, I realize that I can trust him. There's no safer place for me than right here.
W R I T I N G
The author included her story at the end of the book on how the Bureau came to life, how the characters appeared on the page and her own journey to reach where she is now. Such an inspiring story to never give up and always choose life. Choose to be better and try to leave a print in the world by leaving it a little better than how it was when we came in.
For the first time in my life, I can change someone's life for the better.
O V E R A L L
This was really a fun ride, the characters are a joy to be with though sometimes it gets gloomy but what can you expect when your life is unpredictable? You could be relieved for a week but then you'd worry for the rest of the quarter wondering if your life will be chosen to end next. Changing the world doesn't mean you have to change a big part of it or change a huge chunk of the population's lives. It could mean changing one person's life and that will create a chain reaction all on its own.