It's weird, kinda creepy, and I love it!
Title: Creatures of Want and Ruin
Author: Molly Tanzer

Publisher: John Joseph Adams/Mariner Books
Release Date: November 13th 2018 

Pages: 368

Synopsis from Goodreads:
Amityville baywoman Ellie West fishes by day and bootlegs moonshine by night. It's dangerous work under Prohibition–independent operators like her are despised by federal agents and mobsters alike–but Ellie's brother was accepted to college and Ellie's desperate to see him go. So desperate that when wealthy strangers ask her to procure libations for an extravagant party Ellie sells them everything she has, including some booze she acquired under unusual circumstances.
What Ellie doesn't know is that this booze is special. Distilled from foul mushrooms by a cult of diabolists, those who drink it see terrible things–like the destruction of Long Island in fire and flood. The cult is masquerading as a church promising salvation through temperance and a return to "the good old days," so it's hard for Ellie to take a stand against them, especially when her father joins, but Ellie loves Long Island, and she loves her family, and she'll do whatever it takes to ensure neither is torn apart.
---
SPECIAL MENTIONS
After rejecting the cult-like influence of her father's family, Julia moves into a fancy hotel in downtown Austin. But she finds herself alone except for her boyfriend, John–and her fears. Once again she's suppressing her abilities, afraid her family will come for John when they find out he's been developing abilities of his own in her presence. The FBI is also keeping a close eye on Julia hoping she can lead them to her father, Novak, as he's wanted for questioning in his former assistant's death.
With tensions high, Julia and John agree to go separate ways for the summer, paving the way for Julia to reunite with Angus, fellow outcast. Together they set out on a road trip to California to find Julia's mom and a way into Novak's secret underground world. Along the way Julia will learn the Puri perhaps aren't the only humans evolving into something different. . . and that maybe she's the leader her people have needed all along.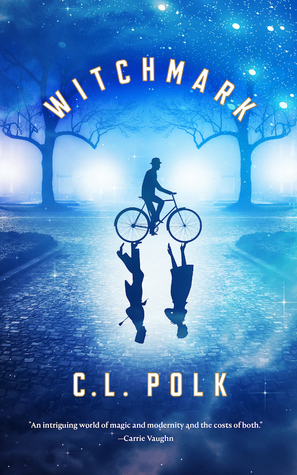 C. L. Polk arrives on the scene with Witchmark, a stunning, addictive fantasy that combines intrigue, magic, betrayal, and romance.
In an original world reminiscent of Edwardian England in the shadow of a World War, cabals of noble families use their unique magical gifts to control the fates of nations, while one young man seeks only to live a life of his own.
Magic marked Miles Singer for suffering the day he was born, doomed either to be enslaved to his family's interest or to be committed to a witches' asylum. He went to war to escape his destiny and came home a different man, but he couldn't leave his past behind. The war between Aeland and Laneer leaves men changed, strangers to their friends and family, but even after faking his own death and reinventing himself as a doctor at a cash-strapped veterans' hospital, Miles can't hide what he truly is.
When a fatally poisoned patient exposes Miles' healing gift and his witchmark, he must put his anonymity and freedom at risk to investigate his patient's murder. To find the truth he'll need to rely on the family he despises, and on the kindness of the most gorgeous man he's ever seen.
Subterranean Press is thrilled to present a major new collection from one of the most dazzling, distinctive voices in the literary world. Catherynne M. Valente, the New York Times bestselling and multiple-award-winning author of The Girl Who Circumnavigated Fairyland in a Ship of Her Own Making and other acclaimed novels, now brings readers thirteen stories unlike any others.
In the title story, Theodore Sturgeon Award-winning novelette "The Future Is Blue," an outcast girl named Tetley lives on floating Garbagetown, in a world that dreams of the long lost land. Lovecraft's Cthulhu mythos is explored and reinvented in style in "Down and Out in R'lyeh." In the novelette "The Limitless Perspective of Master Peek, or, the Luminescence of Debauchery," Perpetua masquerades as a man in order to continue her father's business as a glassblower and must fashion a special eye for a queen. And in "The Beasts Who Fought for Fairyland Until the Very End," the wyvern A-Through-L, the warrior Green Wind and his giant cat the Leopard of Little Breezes cope with their broken-hearted disappointment over politicks as the evil Marquess ascends to rule.
Of her previous collection, The Bread We Eat in Dreams, the New York Times said, "Valente's writing DNA is full of fable, fairy tale and myth drawn from deep wells worldwide." With The Future Is Blue she continues to build and invent unforgettable worlds and characters with lyrical abandon, creating stories that feel old and new at once.
The Future is Blue also includes three never-before-printed stories, for almost 30,000 words of work exclusive to this collection: "Major Tom," "Two and Two is Seven," and the long novelette "Flame, Pearl, Mother, Autumn, Virgin, Sword, Kiss, Blood, Heart, and Grave."
James Patterson presents a bold new heroine—a cross between Katniss Everdeen and Annie Oakley: Serendipity Jones, the fastest sharpshooter in tomorrow's West.
Seventeen-year-old Serendipity "Pity" Jones inherited two things from her mother: a pair of six shooters and perfect aim. She's been offered a life of fame and fortune in Cessation, a glittering city where lawlessness is a way of life. But the price she pays for her freedom may be too great….
In this extraordinary debut from Lyndsay Ely, the West is once again wild after a Second Civil War fractures the U.S. into a broken, dangerous land. Pity's struggle against the dark and twisted underbelly of a corrupt city will haunt you long after the final bullet is shot.
Is the Living Blade real or just a legend?
With it… Prince Bashan could win back his kingdom.
Master Telen Diaz can free himself of the burden from his past.
Owen Smith sees a once-in-a-lifetime chance to gain untold knowledge.
… but for Noraya Smith, the Living Blade will bring nothing but suffering and sorrow.
Darkness almost destroyed the galaxy a thousand years ago. He's reborn; and Nalini just saved his life.
A captive at the mercy of the Warlord of their multi-world kingdom, Nalini has learned to hide under a mask, a lie. As far as her master sees, she's his obedient little puppet.
Then, she meets him. The male who can obliterate the entire Galaxy.
Her world ends that day.
In the eyes of a young Seer, Kai discovers who he's meant to be. His future is blood and death; but there's a female by his side. A female he'd gladly destroy stars for.
If his destiny is ruling over ruins with her, so be it.
Two souls, worlds apart, under different skies. One destiny.
Warning: mature content. Strands of Starfire is a space fantasy romance with some explicit scenes.
Note that this series will only include standalone books.