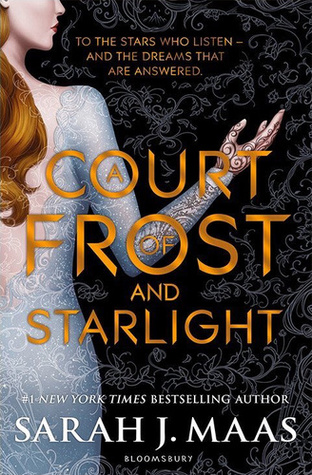 Title: A Court of Frost and Starlight (A Court of Thorns and Roses #3.1)
Author: Sarah J. Maas
Publisher: Bloomsbury YA 

Released Date: May 1st 2018

Pages: 229

Synopsis:
The Winter Solstice. In a week. I was still new enough to being High Lady that I had no idea what my formal role was to be. If we'd have a High Priestess do some odious ceremony, as lanthe had done the year before A year. Gods, nearly a year since Rhys had called in his bargain, desperate to get me away from the poison of the Spring Court to save me from my despair. Had he been only a minute later, the Mother knew what would have happened. Where I'd now be. Snow swirled and eddied in the garden, catching in the brown fibers of the burlap covering the shrubs My mate who had worked so hard and so selflessly, all without hope that I would ever be with him We had both fought for that love, bled for it. Rhys had died for it.
SPOILER FREE
In his stare, I could have sworn galaxies swirled. In the shadows between his wings, the glorious depths of the night dwelled.
P L O T
I didn't set any expectations when I started reading this book. Some of my friends told me that they aren't as impressed or they were a bit disappointed, but I love this novella/novelette. It is different from the previous trilogy, the aura, the mood. The war may have ended but there's so much to mend, citizens of Velaris lost their home, many lives were taken in the war, it's gloomy and sad but Solstice was coming and people are preparing to celebrate and have fun.
"I have to create, or it was all for nothing. I have to create, or I will crumple up with despair and never leave my bed. I have to create because I have no other way of voicing this." Her hand rested on her heart.
C H A R A C T E R S
It was so nice to see everyone together again, but they weren't in the mood where I thought they'd be. Everyone's walking on eggshells and I keep waiting for that one person to show up. Everyone's got their own shit to deal with and they're finding that place in between where they could be happy in their new situation.
Everyone from the Inner Circle is present, basically everyone we first fell in love with from A Court of Thorns and Roses. Other than Feyre and Rhys's POV, the rest of the characters who get POVs in here showed us more about their past, their challenging present and unsure future.
Sadly my guesses for 'who will the next installments be about?' are wrong. I was so far from the basket! Maybe I was imagining too big? But there are a lot of characters to go around in the ACOTAR world, in Prythian. We'll never run out of stories and I'm pretty sure SJM won't tire just yet of creating stories for them.
She smiled broadly. Bright as the full moon, lovelier than any star.
W R I T I N G
Written in more than two point of views I was beginning to think everyone's getting a POV and thought of Oprah saying "You get a point of view, you get a point of view, everyone get's a point of view!" So used to having action-packed reads from Sarah J Mass, this time she gave us an emotional story.
"I like her because so few do. I like her because she is not easy to be around, or to understand."
O V E R A L L
This was such a bittersweet read. There's a lot of pain, but there's also a lot of love. It really is a bridge to the upcoming books. It's more of a back door plot and a treat to our hangover from A Court of Wings and Ruin. Though it's clear who the main characters of the next books will be, but I think the coming books will be written in multiple points of view between three characters but I hope Rhysand's POV will still show up once in a while. There was a scene in the book that left a door open and oh how that scene crumpled my heart.
"You look like an angry snowball," Cassian said."