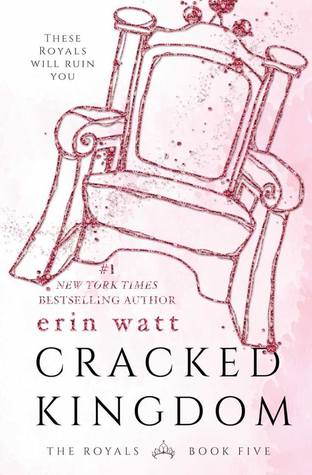 Title: Cracked Kingdom (The Royals #5)
Author: Erin Watt
Publisher: Timeout LLC
Released Date: February 27th 2018
Pages: 305
Synopsis on Goodreads:
These Royals will ruin you.
Ever since Hartley Wright met Easton Royal, her life hasn't been the same. There are enemies behind every corner and dangers beyond each door. When tragedy strikes and steals her memories, she can't trust anyone, not even the blue-eyed boy who promises her that everything will be all right.
Because while Hartley's memory is full of gaps, her instincts tell her Easton is dangerous. She doesn't know if he's the snake in the garden or her chance at salvation. The chaos he brings wherever he goes is too much to handle, the intense feelings he evokes are too confusing to unravel.
Easton wants her to remember. Hartley thinks it's better to forget.
She might be right.
Tragedy. Treachery. Trust. Hartley has to face the facts—in this world, you can't escape the Royals.
Either you live by their rules or you die by them.
GET IT ON AMAZON | ADD IT ON GOODREADS
*Book was made free on release day.*
SPOILER FREE
"A great ending to a drama-filled series. I'll always love Erin Watt's works and The Royal Series will always have its place in my heart."
P L O T
As always, when the Royals are involved you can expect a lot of drama.
However, this time it was less drama from the Royals but more from the Wrights. The house though seems kind of quiet without Reed and Gideon in it. But that ending really caught me off guard. My eyes went wide and I was trying to wrap my head around what, who, how, when, why and for real?!
He's the vision that you conjure up in your dreams at night.
C H A R A C T E R S
Easton Royal
Baby Easton has finally grown up to be a man his father raised him to be. Hartley coming to his life was the wake up call he needed to get his shit together and act more maturely.
Fvck,man. Adulting is hard.
Hartley Wright
As crazy as the Royal family comes, Hartley fits right in. I can't pick a side with her memory loss. I hate it because she can't remember anything about Easton and her family for the past 3 years. I do like it because I don't think she was ever going to move on and let herself be free from her worries if she never lost her memories.
How he's my sun, my warmth, my guiding star. My East.
How I'm his soul, his purpose, his love. His Hart.
W R I T I N G
As always, Erin Watt has a way with words and letting characters redeem themselves no matter how bad they had done, even after they left the world of the living Erin Watt can still make us feel remorse and make us forgive that character for his ways.
Our heads are so fragile, but our hearts are even more delicate.
O V E R A L L
I didn't know what to expect on how this whole series will end. This was originally a trilogy but we (the fans) got more than we bargained for. A duology for Easton, a novella for Gideon. Here's to hoping we get a book for the twins, if not, all the characters in college, or maybe even their descendants in high school.
Who'll rule Astor Park Prep when the twins graduate?
Still not over than ending by the way!
We take each other's breath and give it back until we're one unit, one heart, one body.
GET IT ON AMAZON | ADD IT ON GOODREADS