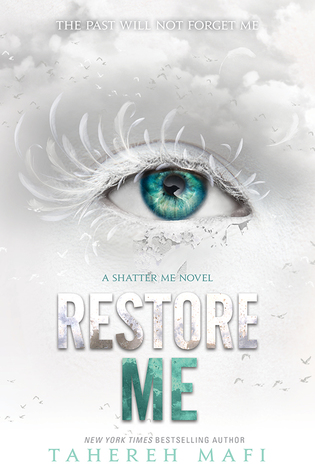 Title: Restore Me (Shatter Me #4)
Author: Tahereh Mafi
Publisher: HarperCollins 

Released Date: March 6th 2018
Pages: 448
Synopsis on Goodreads:
Juliette Ferrars thought she'd won. She took over Sector 45, was named the new Supreme Commander, and now has Warner by her side. But she's still the girl with the ability to kill with a single touch—and now she's got the whole world in the palm of her hand. When tragedy hits, who will she become? Will she be able to control the power she wields and use it for good?
 SPOILER ALERT
P L O T
Barely any time has passed since Ignite Me ended. I would have been devastated and ruined by the wait for this book to release but I'm so glad I didn't have to suffer through all that.
"Idiots are highly flammable, love. Let them all burn in hell."
After finishing Ignite Me, I was staring at the cover for this book and noticed the change in the eye color from blue to green. So I knew we'd have Warner's point of view in this second half of the series. For a moment I even thought the entire book will be told through his eyes.
I love that the girl who blushes so easily in my arms is the same one who would kill a man for hurting me.
I love how the world has gotten bigger in this book. We get new characters and even ended in a different continent! Yes! We're no longer in sector 45, it feels like cold water has been thrown in my face. Refreshing! New secrets are uncovered, more deaths, greater risks.
I will lose her.
And it will kill me.
C H A R A C T E R S
Everyone's walking on egg shells. People outside the continent are waiting for Juliette to trip. Warner was raised to be the Commander of Sector 45 but he doesn't want it, (he needs a break actually) but he and everyone knows he can better handle things and Juliette is aware of that but who is she to disagree when she's been blind and disconnected from the world for years, barely finished high school and spent her entire life keeping her head down and being a proper subordinate.
Adam's kind of weird these day, but he did just tell Warner that they share a father, and for a moment they wanted the same girl, so that's awkward. James needs more screen time, I hope he will in the coming books. Kenji is still the bright light and glue in the group. Nazeera is my new best friend especially when she likes to use "girl" in her expressions. I ship her and Kenji HARD btw, please let Kenji have this since he lost Castle. Speaking of Castle, I'm kinda relieved his dead. He's a figure of the past and it's time to move on, sorry not sorry Kenji. Warner's ex whom he said it was purely physical, Lena, I'm torn between hating her and pitying her. By the end of the day she's still just a teenage girl who did intimate things with her 'not boyfriend' for two years and girls will eventually fall for men especially gentlemen such as Warner. So I understand her pain and anger.
I have a great fear of drowning in the ocean of my own silence.
W R I T I N G
Less poetic and straight to the point. Her writing style has changed but I like it either way. It has more content this time.
"The world tried to crush you, and you refused to be shattered. You've recovered from every setback a stronger person, rising from the ashes only to astonish everyone around you. And you will continue to surprise and confuse those who underestimate you. It is an inevitability, a forgone conclusion."
O V E R A L L
I do believe the children of the Commanders will be revolting and they're the key to taking back the world and freeing the people. It'll be a rocky journey but they'll get there. I just hope no major character dies and everyone who deserves a happy ending gets it because if not, I'll release the Kraken. (Clash of the Titan's movie reference)
How could Nazeera sort of remember Juliette but Warner couldn't? The children are experiments and now no one knows where they were taken. Juliette's in Oceana, but where is everyone else? Right, Warnette's been separated right after they had #hairrelationshipgoals, what's gonna happen now? Super excited for the next book, I won't put this one off.
"Those who do not understand you, will always doubt you."