It's goldish, and that bad-ass outfit! YES! We could never have too many ass-kicking female leads!
Title: Godmaker (Jeweled Goddess #1)
Author: Ingrid Seymour
Publisher: PenDreams
Release Date: April 3, 2018
Pages: 206
Synopsis from Goodreads:
Today, Bia is a Goddess, but her claim to immortality hangs in the balance.
All she knows is her mountain-top citadel with its god-honed buildings and endless comforts. However, this glorious place tolerates only greatness, and she must prove herself in order to stay.
Bia is agile with the sword, but she has no ability to make her a real contender in the yearly competition. What chance does a Skillbarren have against opponents who can control the elements, seize the mind, or wield any number of unimaginable powers?
None.
Bia could surrender and become a mortal. But that would mean dishonor and exile. Three clashes—only one warrior can survive. It's impossible for Bia to triumph with nothing more than her wits and her sword. But she must win—or die.
Godmaker is perfect for fans of The Hunger Games and Wonder Woman!
Will be available in Kindle Unlimited
---
SPECIAL MENTIONS
It's like a cover of a fictional book, like a book in the story. Is that a panther down there? These girls got claws!
Three Dark Crowns meets Pretty Little Liars in this sensational and striking new fantasy from debut author Ellen Goodlett.
Three girls with three deadly secrets. Only one can wear the crown.
Zofi has spent her entire life traveling across the Reaches. Just when her freedom matters most, the king's men arrive and drag her away from her fellow Travelers to bring her to the capital–Kolonya.
Ren grew up in Kolonya, serving as a ladies' maid at court. She dreams of being a noble herself one day, but being ominously summoned to the king's courtroom after a misdeed isn't exactly what she had in mind.
Akeylah was raised by an abusive father in the Eastern Reach, surrounded by brewing insurrection. She'd do anything to escape her family, even accept the invitation of a king who has every reason to despise her.
Each girl hides a dangerous secret–the kind that could get her killed for treason. But when the girls are brought before King Andros expecting an execution, instead they learn the truth: the king is dying and they are his only living heirs. Now the three of them must live at court and compete for the chance to rule. But someone in Kolonya knows the girls' secrets, and they'll stop at nothing to keep them from the throne.
That waterfall! I want an Instagram photo like this.
From RT Book Reviews New Adult Award Winner, K.K. Allen comes a new and suspenseful small town mountain romance.
Lost in the shadows of a tragedy that stripped Aurora June of everything she once loved, she's back in the small town of Balsam Grove, North Carolina, ready to face all she's kept locked away for seven years. Or so she thinks.
As one of the victims of a string of mysterious disappearances in the small, picturesque Appalachian Mountain town, darkness has become her home—her safe blanket when the world reveals its true colors. But as the walls of darkness start to move in on her, she knows the only way to free herself from her past is to face it, head-on. She just needs to figure out how.
Upon arrival, Aurora isn't expecting her first collision to be with the boy she left all those years ago. The boy who betrayed her trust with no regrets. The boy who is no longer a boy, but a man with the same stormy eyes that swept her into his current before she ever learned to swim.
She'd thought he was safe. He'd thought their path was mapped out. Turns out neither of them was ready for the crash at the bottom of the cascade.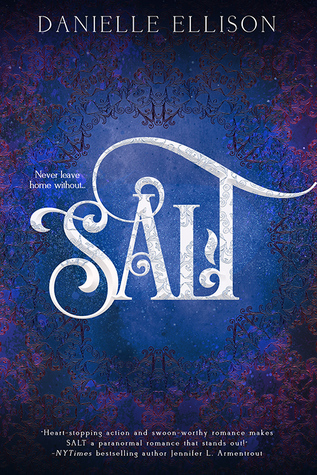 It's simple, has pretty patterns and the colors are just gorgeous.
Never leave home without salt.
Penelope is a witch, part of a secret society protecting humans from demon attacks. But when she was a child, a demon killed her parents—and stole her magic. Since then, she's been pretending to be something she's not, using her sister's magic to hide her own loss, to prevent being sent away.
When she's finally given the chance to join the elite demon-hunting force, Penelope thinks that will finally change. With her sister's help, she can squeeze through the tests and get access to the information she needs to find "her" demon. To take back what was stolen.
Then she meets Carter. He's cute, smart, and she can borrow his magic, too. He knows her secret—but he also has one of his own.
Suddenly, Penelope's impossible quest becomes far more complicated. Because Carter's not telling her everything, and it's starting to seem like the demons have their own agenda…and they're far too interested in her.