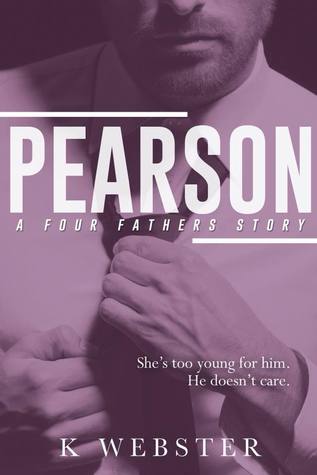 Title: Pearson (Four Fathers #3)
Author: K. Webster
Released Date: April 16th 2018
Synopsis on Goodreads:
I am selfish. Spoiled. A single father.
I do what I want because I can.
One of my four sons is dating the hot, young little neighbor…
Too bad it won't last long.
When I want something, I take it—even if it means taking from my son.
My name is Eric Pearson.
I am an unapologetic, egotistical, domineering man.
People may not like me, but it doesn't stop them from wanting me.
***
Four Fathers Series by bestselling authors
J.D. Hollyfield, Dani René, K Webster, and Ker Dukey
Four genres.
Four bestselling authors.
Four different stories.
Four weeks in April.
One intense, sexy, thrilling ride from beginning to end!
***These books were designed so you can read them out of order. However, they each interconnect and would be best enjoyed by reading them all!***
1 – Blackstone by J.D. Hollyfield – GR: http://bit.ly/2GXCzS1
2 – Kingston by Dani René – GR: http://bit.ly/2FMjzX1
3 – Pearson by K Webster – GR: http://bit.ly/2FKvjcE
4 – Wheeler by Ker Dukey – GR: http://bit.ly/2oIY1T6
*ARC generously provided by the author in exchange for an honest review.*
SPOILER FREE
K Webster warned that I "won't like this hero" but this is THE BEST book in the series so far! As dark and evil Eric Pearson may be, I think I want him to be my daddy.
For the past two books – Blackstone and Kingston – Eric Pearson is nothing but a douche, asshole, and deserves to burn in hell. I can't help but picture him as an old man with a big round belly. It takes effort for my brain to force myself and imagine him as a hot father, fit and muscled.
He kinda redeemed himself in his book, getting inside his head and knowing what he really thinks and how he truly feels for Rowan makes up for the douchey things he did in the previous books. Part of why I'm not mad at him is because Rowan is just as dark as he it. Sure he's old enough to be her father but age is just a number right? Besides, Rowan is already in the consenting age so he's not breaking any rules. I think Eric and Rowan make a perfect pair. (They always are but these two is at my top two in this series)
The ending was very dramatic and now I'm just super excited to read Wheeler and find out what Jax Wheeler is going to do about the situation. He doesn't even know half of the story!
I highly suggest you read Pearson before reading Wheeler to amp up your reading experience.
"I have a new daddy now."