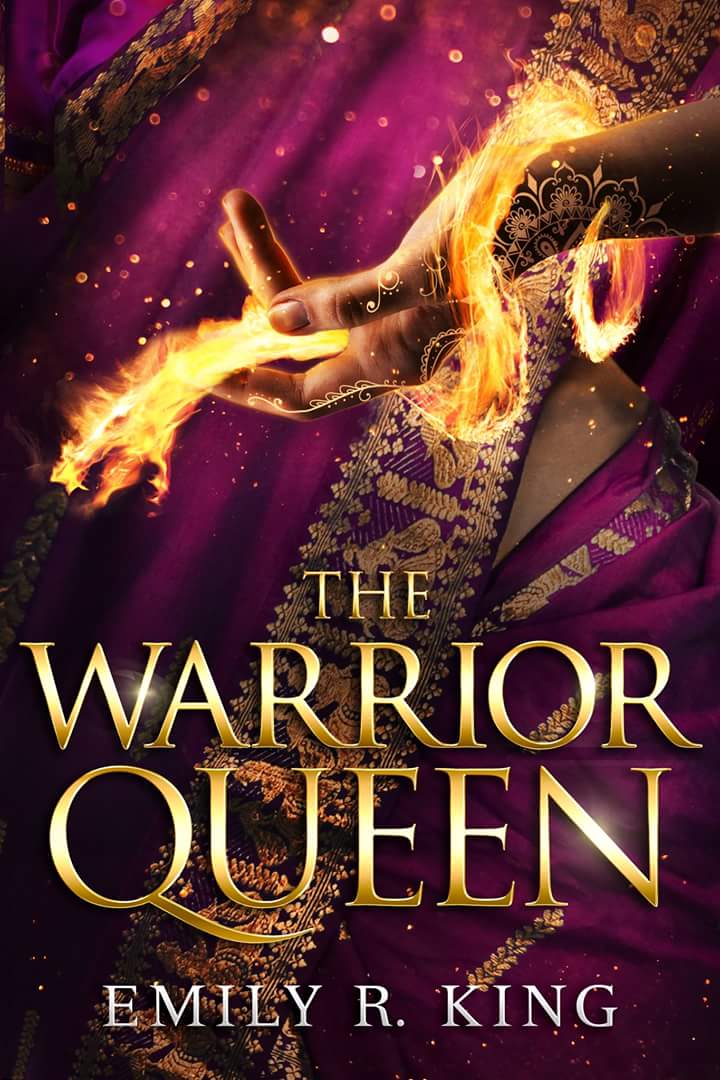 I freaked out when I saw this on my Facebook News Feed. IT'S BETTER THAN I IMAGINED! Though I would've loved to see a part of Kali's face or hair but this is

 I just found out her dragon fire's got a name and it's Siva. I half expected she'd be wearing a black sari, totally forgot she's not mourning Devin's death. Can't wait for Kali to end this series with a bang. I hate to say goodbye to her but she needs rest! She hasn't slept right since The Hundredth Queen 😅.
Title: The Warrior Queen (The Hundredth Queen #4)
Author: Emily R. King
Publisher: Skyscape
Release Date: August 14th 2018
Synopsis from Goodreads:
In the final volume of The Hundredth Queen Series, Kalinda will risk everything to save the man she loves.
Kalinda has brought peace to the Tarachand Empire, at least for now. Bhutas no longer need to hide their gifts. The last of the rebels have been banished. And Prince Ashwin is set to take over as rajah.
But for Kalinda, this all came at a great loss. Her childhood home. Her best friend. The love of her life.
Deven is still trapped in the Void, although he is able to find his way to Kalinda each night. He has been lucky so far—mortals are not meant to last in the Void for long, and Deven has lasted longer than most. But when he doesn't visit her one night, Kalinda knows that his luck has run out.
She will do whatever it takes to save the man she loves, even if it means convincing a god to guide her through the Void. Freeing a mortal from the Void is nearly impossible, but Kalinda has never let those odds stop her before…
GET IT ON AMAZON | ADD TO GOODREADS
---
SPECIAL MENTIONS
Sea Slayer Kelia Starling has grown up with one truth: Sea Shadows are vicious creatures that need to be eradicated. No exceptions. Not even for him.
The Society's sole purpose is to protect the general population from supernatural monsters, and Kelia's their top Slayer. But when her father is murdered and her handler insists it's suicide, she starts to question whether The Society really has her best interests at heart.
Now, to solve her father's death, Kelia must work with an unexpected ally: Drew Knight, an infamous Sea Shadow and the most beautiful creature Kelia has ever set eyes upon. A Sea Shadow who, without intending to, just may show her who the real enemy is…and it'll only cost her one unnamed favor to be collected at a future date.
But after her affiliation with Drew Knight is discovered, Kelia is forced to choose between what she's known since the beginning of her existence…or a dark, terrifying truth that puts her life at risk.
The guy looks hawt and the girl (physically) doesn't look like your ordinary protagonist for an action-filled book. (At least I think this has a lot of action to it.) Look at her, she's chubby! And I love her already.
Justice Labelle always had her life perfectly planned.
Her goals were to graduate from University and get into law school.
Then one day, Justice tried to kill herself.
Well, not her technically. It may have been her body, but those actions weren't intentional and the suicidal thoughts were not hers. Or, so she keeps telling her therapist and family.
Justice is afraid she's losing her mind and just wants to forget everything. But when her best friend is murdered, another one is being mind-screwed by a Vampyre, and her ex is back in town, looking as scrumptious as ever and very suspicious, maybe she isn't all that crazy!
She's so frustratingly pretty!