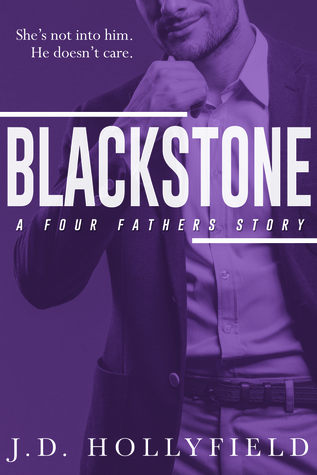 Title: Blackstone (Four Fathers #1)
Author: J.D. Hollyfield
Release Date: April 2, 2018
Synopsis from Goodreads:
I am meticulous. Structured. A single father.
I obsess over things and crave control.
And when a hot, feisty little woman throws a wrench in my carefully laid out plans, I lose my mind.
My every thought revolves around making her bend to my will—until they become less about her doing things my way and more about just her.
My name is Trevor Blackstone.
I am an obsessive, complicated, demanding man.
People may not understand me, but it doesn't stop them from wanting me.
***
Four Fathers Series by bestselling authors
J.D. Hollyfield, Dani René, K Webster, and Ker Dukey
Four genres.
Four bestselling authors.
Four different stories.
Four weeks in April.
One intense, sexy, thrilling ride from beginning to end!
***These books were designed so you can read them out of order. However, they all interconnect and would be best enjoyed by reading them all!***
1 – Blackstone by J.D. Hollyfield – GR: http://bit.ly/2GXCzS1
2 – Kingston by Dani René – GR: http://bit.ly/2FMjzX1
3 – Pearson by K Webster – GR: http://bit.ly/2FKvjcE
4 – Wheeler by Ker Dukey – GR: http://bit.ly/2oIY1T6
*ARC generously provided by the author in exchange for an honest review.*
SPOILER FREE
"It kills me to see him this way. Such a strong man looking so broken."
I must say I love these characters and this little world being introduced where the Four Fathers reside in. It's not a full length novel but it is 14 chapters long and it was enough to tell our first couple's story.
I can't resist laughing or smiling at Lucy's thoughts. She can be on point but most of the time she's ridiculous.
Don't get me started with Trevor. He's got his own issues, like literally mental issues and that's part of why I enjoyed this story a lot. I was able to learn about how a person feels or copes with such gift,where most consider it a curse.
The world building was nice, I could really imagine the location being on a beach most of the time. There was enough drama and conflict and the right amount of steamy sex.
I so do not regret signing up to read all four books, I'm pretty excited for Kingston where my review will be up next week! (That is if I get a copy of the book.) I never thought single dads would be something I'd be in to because I always get weirded out with the kids, but I guess that's changing.