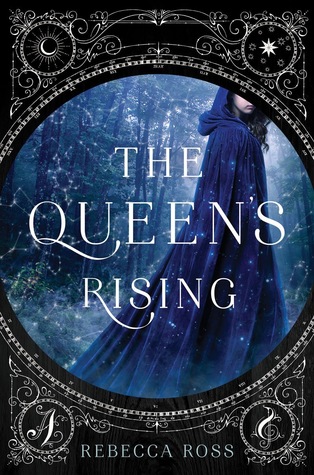 Title: The Queen's Rising (The Queen's Rising #1)
Author: Rebecca Ross
Publisher: HarperTeen
Released Date: February 6th 2018
Pages: 464
Synopsis from Goodreads:
When her seventeenth summer solstice arrives, Brienna desires only two things: to master her passion and to be chosen by a patron.
Growing up in the southern Kingdom of Valenia at the renowned Magnalia House should have prepared her for such a life. While some are born with an innate talent for one of the five passions—art, music, dramatics, wit, and knowledge—Brienna struggled to find hers until she belatedly chose to study knowledge. However, despite all her preparations, Brienna's greatest fear comes true—the solstice does not go according to plan and she is left without a patron.
Months later, her life takes an unexpected turn when a disgraced lord offers her patronage. Suspicious of his intent, and with no other choices, she accepts. But there is much more to his story, and Brienna soon discovers that he has sought her out for his own vengeful gain. For there is a dangerous plot being planned to overthrow the king of Maevana—the archrival kingdom of Valenia—and restore the rightful queen, and her magic, to the northern throne. And others are involved—some closer to Brienna than she realizes.
With war brewing between the two lands, Brienna must choose whose side she will remain loyal to—passion or blood. Because a queen is destined to rise and lead the battle to reclaim the crown. The ultimate decision Brienna must determine is: Who will be that queen?
*ARC received via Edelweiss in exchange for an honest review.*
SPOILER FREE
The Queen's Rising will stay around top 5 for my best reads of 2018. It's so good that it belongs there.
I wanted to wield passion, but I also wanted to know how to hold a sword.
P L O T
Don't get me started with this plot! It's so elaborate that I can't even summarize it up in to a few sentences so I could convince my friends to read it! It's got friendship, sisterhood, family and belongingness, a little bit of love on the side, revenge, past and present collision, different alias', passions (which is unique in this book and you have to read to know why), and a little bit of war and magic.
First of all, it's 4 parts long. Hello, it's 464 pages! This is the longest e-book I've ever read but it didn't feel long to me. I mean felt the length because I can look back and Brienna's adventure has taken me so far already.
This was actually a blind read because I was in the process of looking for a different book cover to add to my blog and I stumbled upon this beauty. Ever since that moment it has been on my radar but not once did I read it's blurb on Goodreads or Epicreads.
"She walks with grace upon the clouds, and the stars know her by name."
C H A R A C T E R S
It has so many characters it's hard to keep up! Luckily we are provided with a list and a short description of the character's role in the story. I can tell you this, there are some characters who you thought would never show their faces again but bam! They show up and everything just falls out of hand.
We are ready because of sisterhood, because our bonds go deeper than blood.
W R I T I N G
The words they use are of older times since technology doesn't exist. Rebecca's writing is just so wonderful, vibrant, and very well in expressing feelings and describing things in detail. The designs on the cover and the map provided have minute details which would reflect on the story if you read with full attention.
I don't feel like the story lacks anything, nor does it have too much to say. Despite the length of the book, it is quite a story to tell which would not be told very well if it were published a word less. Oh look at me speaking in the tongue of years past. Hahaha!
We rise for the queens of our past, and for the queens to come.
O V E R A L L
It's got a map, a list of all the named characters and lineages provided by the author which is really helpful once you start reading. However if you study the lineages before you read the story it can be quite a spoiler.
The end of the book didn't really scream "and thus their new adventure begins" or "their adventure continues". I could have lived happily if it were just a stand alone but there are still so many possibilities and I love the world Rebecca Ross has created and the characters are my baby cinnamon rolls. I'm so happy to have it confirmed by the author that there is a sequel coming and I am super excited what it's going to be about.
I keep imagining how this would make a great mini series, because a movie would not do it justice. A mini series, 8 parts or less would suffice.
I guess I could say The Queen's Rising will always have a special place in my heart. I was in no rush reading this, I took my time, absorbed each and every word to my bones which is why I can't express how much I love this book.