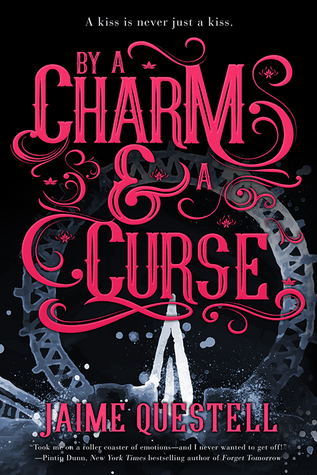 Title: By a Charm and a Curse
Author: Jaime Questell
Publisher: Entangled Teen
Release Date: February 6, 2018
Pages: 300
Synopsis from Goodreads: 
Le Grand's Carnival Fantastic isn't like other traveling circuses. It's bound by a charm, held together by a centuries-old curse, that protects its members from ever growing older or getting hurt. Emmaline King is drawn to the circus like a moth to a flame…and unwittingly recruited into its folds by a mysterious teen boy whose kiss is as cold as ice.
Forced to travel through Texas as the new Girl in the Box, Emmaline is completely trapped. Breaking the curse seems like her only chance at freedom, but with no curse, there's no charm, either—dooming everyone who calls the Carnival Fantastic home. Including the boy she's afraid she's falling for.
Everything—including his life—could end with just one kiss.
*ARC received via NetGalley in exchange for an honest review.*

SPOILER FREE
If you like lost love, dark and bloody, with a touch of magic and set in a circus then this book is for you.
I don't remember much about the plot when I started this book, all I'm sure of was that a kiss could pass down a curse.
My interest all throughout the book was just 3 out of 5 but that kept me going. Enough to make me want to finish the book and enough curiosity that I want to know how it'll end.
The story is just one plot, there are no side stories like if you draw a diagram you'll end up with lots of branches. I guess that's why I wasn't crazy about this book because I wanted more from it. But then it's only a standalone and so much could only be told.
"I go wherever you go. You are my constant." 
Surprising enough I was satisfied with this read. It's not the usual genre I would go for but it is different and the characters and elements are unusual. I mostly love the parts about the relationships between characters and couples because I'm a hardcore romance fan and I must say some relationships here are heartbreaking and I don't know why I enjoy heartbreaks so much. It creeps me out that I do.