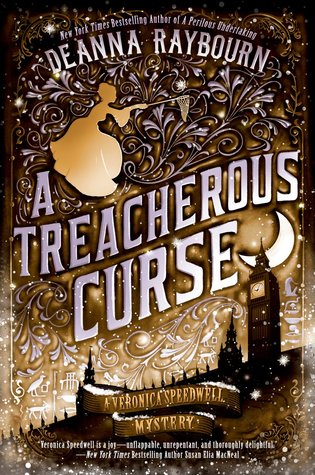 Title: A Treacherous Curse (Veronica Speedwell #3)
Author: Deanna Raybourn
Publisher: Berkley
Release Date: January 16, 2018
Pages: 352
Goodreads Blurb:
London, 1888.
As colorful and unfettered as the butterflies she collects, Victorian adventuress Veronica Speedwell can't resist the allure of an exotic mystery—particularly one involving her enigmatic colleague, Stoker. His former expedition partner has vanished from an archaeological dig with a priceless diadem unearthed from the newly discovered tomb of an Egyptian princess. This disappearance is just the latest in a string of unfortunate events that have plagued the controversial expedition, and rumors abound that the curse of the vengeful princess has been unleashed as the shadowy figure of Anubis himself stalks the streets of London.
But the perils of an ancient curse are not the only challenges Veronica must face as sordid details and malevolent enemies emerge from Stoker's past. Caught in a tangle of conspiracies and threats—and thrust into the public eye by an enterprising new foe—Veronica must separate facts from fantasy to unravel a web of duplicity that threatens to cost Stoker everything. . . .
SPOILER FREE
*ARC received via NetGalley in exchange for an honest review.*
An emotionally exhausting story and my feelings have been shifting from one emotion to another. My pillow and bed begs for mercy every time I punch my fist and run my nails over them. Definitely my favorite book in the series so far.
P L O T 
Deanna Raybourn has done it again! She has taken my heart and added it to the many displays of the Belvedere in Bishop's Folly, London.
It took me quite a while to figure out who the culprit was, whether or not a certain person was dead or he simply disappeared. But my dear reader, a certain person has finally showed up and I have been waiting for his/her debut since the very first book! No one knows (except my dog) the noises I make every time something happens in the book. It's either a moan, a grunt, or colorful curses. I'm sure you understand how it feels like to not be able to physically voice out your feelings because people are asleep. I wish I have a soundproof room.
This could easily be the longest book so far. A lot of back story was written in, conversations that hit home. There was even a time where I felt a bit scared when they talked about the curse.
I knew better to ask him for what he could not give. 
C H A R A C T E R S 
The characters! Oh gosh I wish I could name them freely but this is a spoiler free review. All I could tell you is there are a lot of key players in this story, so many new names and faces. I'm still unsure if I could trust Mornaday, I can't fully get a feel of his character.
There are characters I want to hug and comfort, some I want to constantly stab and punch until he's in the brink of death but let him heal and torture him again. There are also others I want to wrap in a soft fluffy coat and hide them from the rest of the world forever.
I can never forget how much Veronica Speedwell has slayed in this book with simply the use of her words. She is not to be reckoned with because she is no ordinary woman and she is no lady.
"Life is not about achievement. It is about the effort. If one takes pleasure in every step, one enjoys the whole journey." 
W R I T I N G 
As always Deanna's writing is phenomenal. Though it is said or written, where nothing much has happened but the way she uses words to give such powerful emotion and energy to a scene. I have even gathered new quotes for my collection.
Her lips curved, but I would not have called it a smile. No smile was ever so sad. 
O V E R A L L 
I read this series in the span of three months and now I have caught up which means I will have to wait an entire year for the next installment to arrive. I never thought I'd love this series, I was even hesitant to request it on NetGalley but I have no regrets now. I can't wait for Stoker and Veronica's adventure and I am pretty excited and hopeful for their relationship to be taken to the next level.
If I could give it 11 stars out of 5 I would. 
Take my word for it, just pick up this book and devour it.