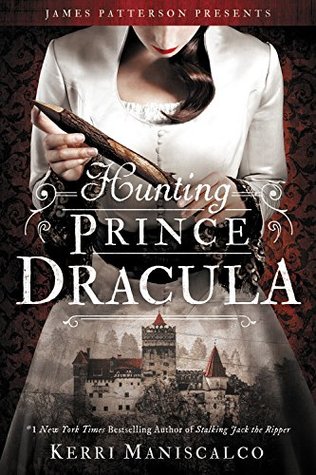 Title: Hunting Prince Dracula (Stalking Jack the Ripper #2)
Author: Kerri Maniscalco
Publisher: Little, Brown & Company
Release Date: September 19th 2017
Synopsis from Goodreads:
In this hotly anticipated sequel to the haunting #1 bestseller Stalking Jack the Ripper, bizarre murders are discovered in the castle of Prince Vlad the Impaler, otherwise known as Dracula. Could it be a copycat killer…or has the depraved prince been brought back to life? 

Following the grief and horror of her discovery of Jack the Ripper's true identity, Audrey Rose Wadsworth has no choice but to flee London and its memories. Together with the arrogant yet charming Thomas Cresswell, she journeys to the dark heart of Romania, home to one of Europe's best schools of forensic medicine…and to another notorious killer, Vlad the Impaler, whose thirst for blood became legend. 

But her life's dream is soon tainted by blood-soaked discoveries in the halls of the school's forbidding castle, and Audrey Rose is compelled to investigate the strangely familiar murders. What she finds brings all her terrifying fears to life once again.
. . .
Title: The Fire Queen (The Hundredth Queen #2)
Author: Emily R. King
Publisher:  Skyscape
Release Date: September 26th 2017
Synopsis from Goodreads:
In the second book in The Hundredth Queen Series, Emily R. King once again follows a young warrior queen's rise to meet her destiny in a richly imagined world of sorcery and forbidden powers.
Though the tyrant rajah she was forced to marry is dead, Kalinda's troubles are far from over. A warlord has invaded the imperial city, and now she's in exile. But she isn't alone. Kalinda has the allegiance of Captain Deven Naik, her guard and beloved, imprisoned for treason and stripped of command. With the empire at war, their best hope is to find Prince Ashwin, the rajah's son, who has promised Deven's freedom on one condition: that Kalinda will fight and defeat three formidable opponents.
But as Kalinda's tournament strengths are once again challenged, so too is her relationship with Deven. While Deven fears her powers, Ashwin reveres them—as well as the courageous woman who wields them. Kalinda comes to regard Ashwin as the only man who can repair a warring world and finds herself torn between her allegiance to Deven and a newly found respect for the young prince.
With both the responsibility to protect her people and the fate of those she loves weighing heavily upon her, Kalinda is forced again to compete. She must test the limits of her fire powers and her hard-won wisdom. But will that be enough to unite the empire without sacrificing all she holds dear?