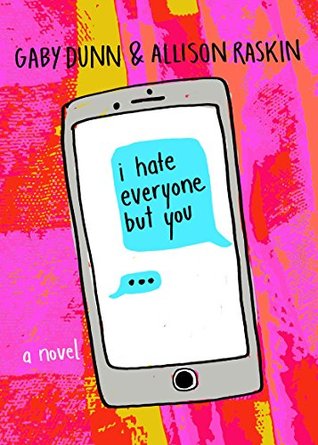 Title: I Hate Everyone But You
Author:  Gaby Dunn, Allison Raskin
Publisher: Wednesday Books
Release Date: September 5th 2017
Pages: 344
Synopsis from Goodreads:
Dear Best Friend,
I can already tell that I will hate everyone but you.
Sincerely,
Ava Helmer
(that brunette who won't leave you alone)
We're still in the same room, you weirdo.
Stop crying.
G
So begins a series of texts and emails sent between two best friends, Ava and Gen, as they head off to their first semesters of college on opposite sides of the country. From first loves to weird roommates, heartbreak, self-discovery, coming out and mental health, the two best friends will document every moment to each other. But as each changes and grows into her new life, will their friendship be able to survive the distance?
Did I like it? Loved it.
Is it funny? Very.
Are these bestfriends into each other? No, it's not like that.
*I would like to thank the publisher for the ARC via granting my wish on NetGalley.*
HINT(Y) SPOILERS AHEAD BUT VERY VAGUE
Can I just say, #friendshipgoals I love how Ava and Gen could forgive each other so easily, it makes me feel bad about myself but not too bad. I'll always be the type to hold a grudge. Haha! When one of them finally decided to visit the other, sealed the deal to me. I thought they are the coolest friends ever.
They should add humor to the genre this book is in.
The ending kinda felt rushed though, but I felt the pain where the one character doesn't seem to be feeling. Endings are the hardest to write when it's a standalone and I feel like this was the right ending to it. I'm glad how it ended but it just felt rushed. (Keep reading) However, there was no other way around it, the time frame seems short to me because the sentences were shorter but days have actually passed in the story. So I completely understand.
I am crazy jealous of Gen and Ava's relationship. I really wish I had a bestfriend whom I can comfortable talk to every single day and share my deepest darkest secrets with. But Gen and Ava's relationship has been in the works since freshman year high school and we know how tough those years can be.
This is my first book where it's only written in forms of emails and texts. I've never even read the types of books where the story is told through letters. I must say I was't disappointed by my first pick. These girl's humor really took me out of my reading slump.