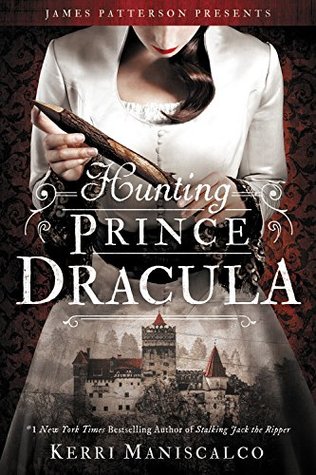 Title: Hunting Prince Dracula (Stalking Jack the Ripper #2)
Author: Kerri Maniscalco
Publisher: Little, Brown & Company
Release Date: September 19th 2017
Synopsis from Goodreads:
In this hotly anticipated sequel to the haunting #1 bestseller Stalking Jack the Ripper, bizarre murders are discovered in the castle of Prince Vlad the Impaler, otherwise known as Dracula. Could it be a copycat killer…or has the depraved prince been brought back to life? 

Following the grief and horror of her discovery of Jack the Ripper's true identity, Audrey Rose Wadsworth has no choice but to flee London and its memories. Together with the arrogant yet charming Thomas Cresswell, she journeys to the dark heart of Romania, home to one of Europe's best schools of forensic medicine…and to another notorious killer, Vlad the Impaler, whose thirst for blood became legend. 

But her life's dream is soon tainted by blood-soaked discoveries in the halls of the school's forbidding castle, and Audrey Rose is compelled to investigate the strangely familiar murders. What she finds brings all her terrifying fears to life once again.
*I acquired my own copy.*
SPOILER FREE REVIEW
"I was unaware you were fluent in anything other than sarcasm." 
It's because I didn't dig deep too much and tried to pry information out of Kerri Maniscalco about this book which is why it has blown me away once again. The great thing also is one can read this as a standalone because it doesn't dwell too much on the first book but the reading experience will be quite different for those who read SJTR and the identity of Jack wasn't even mentioned in this book.
I still regret not reading this book sooner, I should have trusted the bloggers/vloggers I followed and I would have gotten a spot in to the Knights of Whitechapel Street Team for this book series.
I was the rose with thorns my mother knew me to be. 
The mystery on this one had me suspecting EVERY character once again. I don't know how my mother would take it, she's the mystery fan between us. I actually thought I had this one in the bag when I stuck to one character, but then boom! I probably suck as a private investigator.
I would not be treated as if my mind were inferior because I'd been blessed with the ability to bear children. 
The characters keep getting better and better. Audrey Rose Wadsworth has done it again. If she truly lived in the past, she'd most likely be part of history as one of the role models for women. She stands up for herself and doesn't back down to get what she wants. Thomas James Cresswell is still as charming as ever, but even more now than the last book. He never fails to make my heartbeat thrum in my ears. Though we leave all the rest of our beloved characters in London, we are blessed to be introduced with new characters who's majority are of the male species. Even though I failed to remember the names of all their classmates in the academy, they were still great company.
Afternoon certainly took its time slipping into it's evening attire, but once it pulled its cloak of night on, I'd never been more pleased to see the inky black sky. 
The writing! Yes! I live for these types of prose where it's very poetic.
I still wish the series was called 'The Adventures of Cressworth' or simply 'The Cressworth Series' . Nevertheless, I cannot wait for the next book which will be another long year until it arrives. But PRAISE TO KERRI MANISCALCO for showering us with wonderful adventures based on history and folklore. I must admit this is a great and entertaining way to educate myself with the culture of other countries.