Title: The Selection Series
Author: Kiera Cass
Date Series Started: April 24th 2012
Date Series Ended: May 3rd 2016
Publisher: HarperTeen
Overall Blurb:
In the land of Illea, when the eldest prince comes of age a selection begins. 35 girls are drawn out to live in the castle and compete for the heart of the young prince. Free clothes, more food than you could eat, plus benefits for your family. America Singer wants none of the glamour and jewels but it could help her family greatly. How could she win the heart of a prince when her heart is already with someone else?
For the last two books, King Maxon has bored twins with Princess Eadlyn as the eldest. Seeing it unfair to strip her off her chance of ruling just because she is a princess and not a prince, the rule has been altered. She is now the heir to the throne. Eadlyn doesn't want to be in a relationship, she's an independent woman who doesn't need a man but what can she do when her parents force her to hold her own Selection? Will she come out empty-handed? Or with a ring on her finger?
SPOILER FREE REVIEW
This was originally a trilogy, and I was hooked with the series. The ball gowns, the parties, the secret tunnels and the secret signals. The story was really fun and thrilling when rebels would come attack the palace and everyone would run around and hide, others would get killed and blood will be all over the walls and floors. Plus the surprising turn of events in the ending! The ending of The One is still one of the most unforgettable endings I've ever read.
Due to high demand by the fans, the author decided to write two more books in The Selection world which disappointed lots of people including myself. It no longer had the same thrill and I wasn't really feeling the 35 selected boys to win the hand of the princess. I was barely feeling any connection between Eadlyn and the boys, which didn't excite me as much as it used to.
The gorgeous covers make up for the flaws in the story. Who could resist such sparkles and glitters?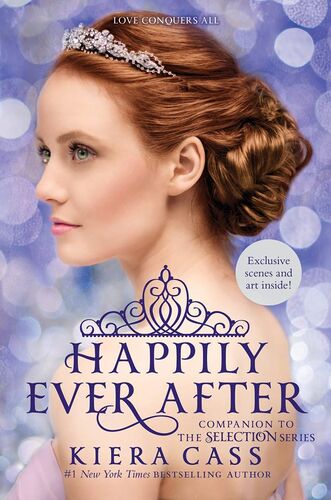 All throughout the release of the five books, novellas were also being released from the different points of view of beloved characters. The Prince is obviously Prince Maxon's POV; The Guard is for Aspen, one of the guards in the castle; The Queen is about the Queen during her own Selection days; The Favorite is Marlee, a competitor in the selection trilogy. Among the novellas, The Queen is definitely my favorite. You're gonna have to read the books and the novella to know why.
More extra stuff are in the books The Selection Stories: The Prince and the Guard and Happily Ever After. Note that other than The Prince and The Guard novellas, all other contents in the two books are different.