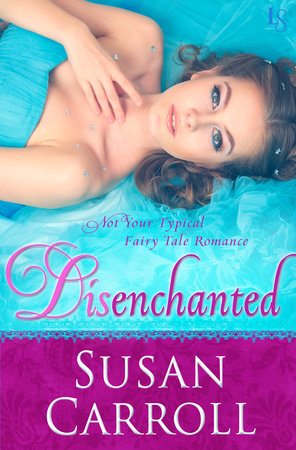 Title: Disenchanted: Not Your Typical Fairy Tale Romance
Author: Susan Carroll
Publisher: Random House Publishing Group – Loveswept
Release Date: March 7, 2017
Synopsis from Goodreads:
An alluring love triangle and a daring caper unfold in this imaginative retelling of Cinderella, featuring an indomitable damsel who's not so easily swept off her glass slippers.
At the tender age of seventeen, Ella Upton lost her innocence to a traveling minstrel, a youth with flaxen hair and a golden voice whose deep blue eyes concealed his true intentions—until it was too late. Seven years later, Ella's stepsisters chatter about winning the affections of the dreamy Prince Florian at the royal ball, but Ella has no such illusions. Instead, her dashing best friend, Malcolm Hawkridge, persuades her with his reckless charm and wicked smile to use the occasion to steal back a magic orb from the corrupt king.
But before the clock strikes midnight, Ella finds herself pursued by more than one prince—not to mention Commander Horatio Crushington, who captures her with his piercing gaze from across the crowded ballroom. Dancing through the sudden swirl of suitors, Ella feels her cheeks burning—and not solely because of the orb hidden in her gown. Has the strapping Horatio awakened long-dormant desires or is Ella finally coming to grips with her feelings for Malcolm? Only the girl who thought she'd given up on love can decide.
Note: Disenchanted ends on a cliffhanger. Ella's story continues in Charmless!
*Thank You Random House Publishing Group – Loveswept for the copy via NetGalley.*
"Every young girl should have one night like that, to feel beautiful and admired, her entire future shining before her with so many magic possibilities." 
Disenchanted stands to its title, 'Not Your Typical Fairy Tale Romance'. One may think that sounds cliche, I did too, but boy it has lived up to its name.
SPOILER FREE REVIEW
Cinderella as a girl full of mischief and a sharp tongue.
Cinderella with three gorgeous men offering their hearts.
Cinderella where the prince has younger siblings.
Cinderella tasked to steal from the king.
Cinderella with a mysterious past.
Cinderella with otherworldly creatures discreetly living in their town.
And most of all, Cinderella who loves her stepmother and stepsisters and they love her back.
The characters are very much human and not all perfect, not purely evil, not invincible, and others are just trying to become a hero.
"No girl is ever satisfied with her reflection when she regards herself in the mirror, I believe it is failing of our sex that we always search for flaws and are sure to find them because no woman is perfect." 
"My friend says that a woman's true power lies not in the perfection of her features, but in her confidence, how much she believes in herself." 
"No matter how luxurious, a cage is still a cage." 
The context of the book is also very poetic and filled with love. Here's a sample.
"My father was a quiet man, never as demonstrative with his affection as my mother. I tended to think of him as being like the moon, reflecting my mother's light and warmth. When she died, it was as though the moon fell into a state of permanent eclipse, stealing stars from my sky as well." 
Once I started reading I could not get enough of it. Mysteries keep unfolding, I question the actions of characters. It may have lots of words but it is to enhance the way we see the world through Ella's eyes. It's well written, planned out. Well it's Susan Carroll of course! You can't expect nothing less.
Once again I'm trying not to beat myself up for not reading this sooner. It has been sitting in my NetGalley approved list for quite some time. Now I'll be waiting for the next book, "Clueless" and the cover looks like a prince.
Charmless: Not Your Typical Fairy Tale Romance comes May 15, 2018.