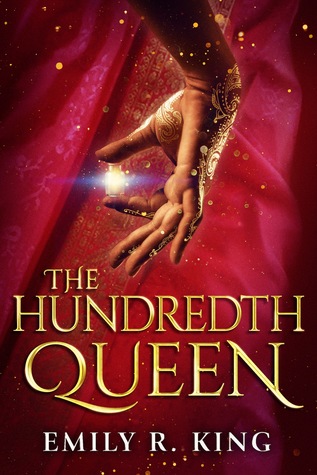 Title: The Hundredth Queen (The Hundredth Queen #1)
Author: Emily R. King
Publisher: Skyscape
Release Date: June 1, 2017
Synopsis from Goodreads:
He wanted a warrior queen. He got a revolutionary.
As an orphan ward of the Sisterhood, eighteen-year-old Kalinda is destined for nothing more than a life of seclusion and prayer. Plagued by fevers, she's an unlikely candidate for even a servant's position, let alone a courtesan or wife. Her sole dream is to continue living in peace in the Sisterhood's mountain temple.
But a visit from the tyrant Rajah Tarek disrupts Kalinda's life. Within hours, she is ripped from the comfort of her home, set on a desert trek, and ordered to fight for her place among the rajah's ninety-nine wives and numerous courtesans. Her only solace comes in the company of her guard, the stoic but kind Captain Deven Naik.
Faced with the danger of a tournament to the death—and her growing affection for Deven—Kalinda has only one hope for escape, and it lies in an arcane, forbidden power buried within her.
*Thank You SkyScape for this copy received via NetGalley in exchange for an honest review.*
SPOILER FREE REVIEW
Thrilling, heart-escalating, and well thought out. It screams FEMINIST.
The Hundredth Queen kept me at the edge of my seat and I regret for not reading it sooner. Kalinda is a great protagonist and she isn't afraid to speak her mind. She's a fast learner too. Being sick most of her life has made her fall behind in training but with the help and confidence of her friends and the people she trusts she does her best to win the tournament.
My senses sharpen in anticipation and soak in his nearness. I wish to push him away and to yank him close, to tell him to leave and to ask him to stay forever. 
Talk about wanting someone you can't have! This is one of the most heart-wrenching types of love stories. How can one hide and deny how they feel? I can't even hide my feelings for wanting snacks even though I shouldn't.
I will wait.
I will crouch in the dark until the time is ripe, and I will eat Rajah Tarek alive. 
Revenge comes at a cost. Take your time to ensure success. Kalinda is brave, strong, and her faith in her gods is the strongest. She doesn't question them, she does what is asked of her. There is a reason why the gods lead her to her path and she must serve them.
I do not understand why the gods have made it so that every woman's lot in life is to owe her security to a man. 
Things must change! Be the change Kalinda! Their world is a place I would not want to live in. Women who prefer to be courtesans of the Rajah because it is a better life than being in the streets. They don't care if any of the king's men would touch them because food and shelter is enough satisfaction. Women are treated this way even though they can fight as well as men.
I gave this 5 stars because it's just perfect. I was willing to give up sleep for this but my body gives in to rest. I need to rest to prepare for a tournament of my own. We are all champions as what Emily said in her acknowledgement. I wouldn't be surprised if this will be picked up as a movie because it is packed with action, blood, and tough girls. I am ready to start The Fire Queen now.