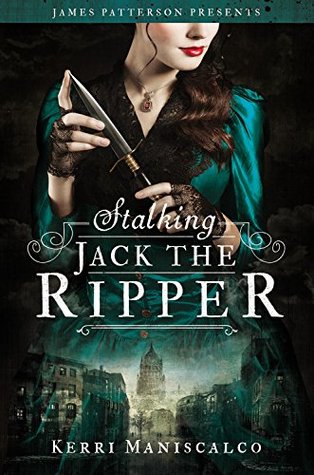 Originally Posted on April 9, 2017 in my old blog.
Title: Stalking Jack the Ripper
Author: Kerri Maniscalco
Publisher: Jimmy Patterson
Release Date: September 20, 2016
Synopsis from Goodreads:
Seventeen-year-old Audrey Rose Wadsworth was born a lord's daughter, with a life of wealth and privilege stretched out before her. But between the social teas and silk dress fittings, she leads a forbidden secret life.
Against her stern father's wishes and society's expectations, Audrey often slips away to her uncle's laboratory to study the gruesome practice of forensic medicine. When her work on a string of savagely killed corpses drags Audrey into the investigation of a serial murderer, her search for answers brings her close to her own sheltered world.
SPOILER FREE REVIEW
Damn! Up until the end, I never guessed who the murderer was.
This book kept me up late at night, putting it down was never an option. I need the second book! I can't wait for the second book. And Thomas is just so irresistible! I love how this book takes me back to previous centuries and those are my favorite times. History with their norms, rules, dresses! What's not to love? Kerri just brought me to this world and time.
I thought this book was going to be very dark and almost creepy that's why I didn't read it sooner, but now I regret that. I should have known. James Patterson chose her book to be the first of Jimmy Patterson Publishing House debut, it's bound to be PERFECT!
Audrey and Thomas better not screw their ship in the next book.