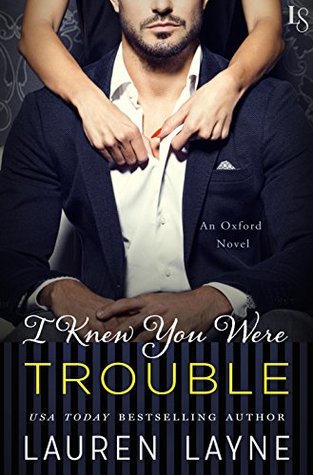 Originally Posted on July 21, 2017 in my old blog.
Title: I Knew You Were Trouble (Oxford #4)
Author: Lauren Layne
Publisher: Loveswept
Release Date: June 13, 2017
Synopsis from Goodreads:
New York City's hottest bachelors are stirring up trouble in this fun, flirty Oxford Novel, as a love triangle forces a feisty beauty to choose between winning back Mr. Right or giving in to Mr. Wrong.
Taylor Carr has it all—a sleek job in advertising, a stunning Manhattan apartment, and the perfect man to share it with: Bradley Calloway. Even after Bradley dumps her for a co-worker on move-in day, Taylor isn't worried. She'll get her man eventually. In the meantime, she needs a new roommate. Enter Nick Ballantine, career bartender, freelance writer—and longtime pain in Taylor's ass. Sexy in a permanent five-o'clock-shadow kind of way, Nick knows how to push Taylor's buttons, as if he could see right through to the real her.
Nick's always trying to fix people, and nobody could use a good fixing more than Taylor. Sure, she's gorgeous, with mesmerizing silver eyes, but it's her vulnerability that kills him. Now that they're shacking up together, the chemistry is out of control. Soon they're putting every part of their two-bedroom apartment to good use. Then Taylor's ex comes crawling back to her, and Nick figures she'll jump at the chance to go back to her old life—unless he fights for the best thing that ever happened to him.
SPOILER FREE REVIEW
Thank You Random House Publishing Group – Loveswept for the copy via NetGalley.
Short blurb: Taylor Carr and Nick Ballantine just click. They're both simply too dense to realize that all that bickering was a love spark being expressed in a different way.
This is my first Lauren Layne book and I must say this is very well written. It's realistic, it doesn't feel rushed, it's not boring at all. Every event surprises me and books like that are simply great!
Taylor and Nick are just perfect for each other. No one else could get their sassy-ness and see it as a challenge rather than an insult. Nick screams sex appeal and I can't help but imagine Nick Bateman (a hot model) as I read this book. As I was reading this book I kept texting my friends my feels even though they wouldn't relate but I use small sentences to make them understand before I dive right back in.
It a huge possibility that I'll pick up another LL book in this series. 😉