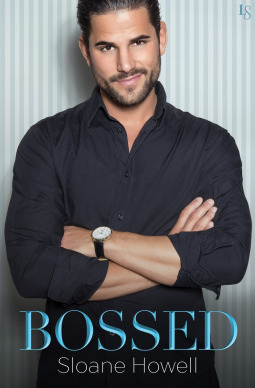 Originally Posted on April 9, 2017 in my old blog.
Title: Bossed
Author: Sloane Howell
Publisher: Loveswept
Release Date: March 28, 2017
Synopsis from Goodreads:
He's the boss. But she's ready to take charge.
In this provocative and sexy* office romance, a cheeky new hire tempts a hotshot sports agent to mix business with pleasure.
Jenny: Job interviews are a bitch under the best of circumstances, but when your potential boss is the world's biggest prick, that's when you should simply walk away. It's just that I need this job so badly—and I'm mesmerized by Ethan Mason's piercing gaze. Men like him aren't supposed to exist in real life. But under the tailored suits and GQ looks, Ethan simmers with barely restrained ambition. And no matter how hard I work to fight the attraction, I'm going to get burned.
Ethan: You don't become a top agent without learning how to close a deal. I always get what—or who—I want, by staying cool and in command. Then Jenny Jackson walks into my office with her lush curves and "screw you" attitude and blows away my intentions of keeping things professional. All I can think about is exploring the perfect body hidden beneath those conservative clothes or shutting her saucy mouth with one hot kiss. Jenny's worth breaking the rules over—if I can convince her to break the rules for me.
*By sexy, we mean sexy. Like, 18+ sexy.
*Thank You Random House Publishing Group – Loveswept for the ARC through NetGalley.*
SPOILER FREE REVIEW
I highly suggest this book to everyone who likes to read about men who are filthy rich but with a good heart, who are still human and make honest mistakes. The characters almost feel like their real persons in the real world because of how they react and behave in certain situations.
"Everything about her was a bad idea." 

A boss who likes to be in control, has a filthy mouth, and sexy from head to toe, inside out. And Jenny likes that about him.

"Distractions kill productivity, and she was the ultimate distraction – for me."
Ethan Mason built his company because of a shattered dream, and he made a promise to himself that a woman shall never get in the way of his business the way his mother ruined her father's business a long time ago.As I was reading this book I always felt giddy and excited. I had the feels! Plus I cried with the ending, it tore me apart. I've never cried to a romance novel before, not even 50 shades of grey trilogy (though I've yet to read the 3rd book). But I cried with the book and I felt my heart hurt. It was kind of expected but I never thought it would affect me that much.This was a very fun and interesting read. I couldn't put it down and I realized I read it in just 3 days (or nights to be specific because I read books that I like so much during night time). The fun characters, Ethan and Jenny's best friends make me wish I had best friends like them. I'm a sucker for businessmen in romantic stories and this was in the baseball business which I have less to zero knowledge about and so it was a great way to somehow expose myself a bit about their world.